Chris Christie on Flooding in New Jersey: "You Want Me to Go Down There With a Mop?"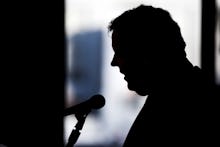 Just to be clear, Chris Christie is running for commander-in-chief — not head janitor.
New Jersey's Republican governor dished up some of his signature sarcasm in New Hampshire on Monday, asking a woman who questioned why he was on the stump instead of at home dealing with storm damage, "You want me to go down there with a mop?"
Christie got snarky at a town hall-style meeting in Hooksett, New Hampshire, after the woman said she was speaking on behalf of friends in Jersey, where she said she went to prep school.
"They had me ask you: Why are you here in New Hampshire, campaigning, instead of there, helping survey the damages done by the coastal floodings from the storm?" she asked.
"Well, because it's already done. It's already done," said Christie, who returned to the Garden State for the weekend's blizzard, which saw a storm surge batter towns along Jersey's southern shore.
When the woman protested that the Jersey Shore crisis was ongoing, Christie pushed back: He said the storm only caused flooding in Cape May County, no mandatory evacuations were required; and that all but 500 of the 94,000 people who had lost power had their lights back on.
The governor, who has made early voting New Hampshire practically a second home in his campaign for the GOP nomination, also told his questioner that the Department of Environmental Protection had assessed beach erosion and that economic development officials were speaking with proprietors of businesses that suffered storm damage.
"So for your friends and family who are concerned about why I'm not there, I just wonder what it is they think I'd be doing today." Christie said. "You know, I'm the governor. I'm, you know, not the chief engineer."
Christie, who has weathered criticism from New Jerseyans who say he's downplayed the severity of the storm damage, said being judged harshly comes with the job.
"If you're in public life, you're going to be criticized. And so all you have to do is do what you think is right," he said. 
"If there were anything left for me to have to do, I wouldn't have come back. If they want me to just sit there and stare, I could do that, but I don't think it would make them feel any better. When the storm hit, I was there." 
Averages compiled by RealClearPolitics show Christie polling in sixth place in both the New Hampshire primary and national surveys of the GOP race.