Ava DuVernay Explains Why She Hates the Word "Diversity"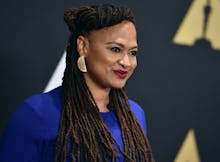 In addition to her critically acclaimed work, Ava DuVernay is known in no small part for being the first black woman nominated for a Golden Globe in directing — and forcing a historically homogenous industry to recognize the power and value of diversity. But DuVernay refuses to use the word to describe her own work.
"We're hearing a lot about diversity," DuVernay told the New York Times at a luncheon co-hosted by her Array film distribution collective at the Sundance Film Festival on Sunday. "I hate that word so, so much.
"I feel it's a medicinal word that has no emotional resonance, and this is a really emotional issue. It's emotional for artists who are women and people of color to have less value placed on our worldview," she added, elaborating that the problem is more about "belonging."
"It's emotional for artists who are women and people of color to have less value placed on our worldview."
"Who dictates who belongs?" she asked. "The very body who dictates that looks all one way."
DuVernay's comments offer particularly crucial food for thought in the wake of the conversation recently sparked by #OscarsSoWhite. Not one actor nominated in any of the four acting categories for the prestigious award this year was a person of color for the second year in a row and the remaining categories were also notably homogenous — a point Academy of Motion Picture Arts and Sciences president Cheryl Boone Isaacs addressed earlier this month.
"This is a difficult but important conversation, and it's time for big changes," Boone Isaacs said in a statement. "But change is not coming as fast as we would like. We need to do more, and better and more quickly."
This need for change is well-documented: Hollywood notoriously underrepresents women and people of color at all levels of the industry — 96% of TV network and studio heads and 93% of senior management in the TV industry are white, according to the 2015 Hollywood Diversity Report, and women accounted for only 12% of on-screen protagonists, 25% of writers and 23% of executive producers and 17% of films had no speaking roles for black people according to the Women's Media Center's 2015 report.
DuVernay echoed Boone Isaacs' call for a concrete change in representation over comforting rhetoric. In fact, she has committed to doing just that with Array, which aims to support female filmmakers and artists of color.
"Change has to happen, it has to happen with the people who dictate who belongs," DuVernay concluded to the New York Times. "It's disconcerting to hear people say that shouldn't change. That's the very reason it should."
h/t Vulture