CNN's Democratic Town Hall 2016 Video and Full Transcript of Remarks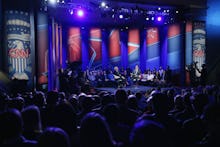 Justin Sullivan/Getty Images
CNN organized a Democratic town hall Monday evening in Des Moines, Iowa, hosted by the Iowa Democratic Party and Drake University. The event featured all three Democratic presidential hopefuls: former Secretary of State Hillary Clinton, Vermont Sen. Bernie sanders and former Maryland Gov. Martin O'Malley. On stage, the candidates cycled through their respective political platforms and underscored campaign objectives in an attempt to garner voters' favor just one week before the Hawkeye State is set to caucus. CNN has a full transcript of Monday's event and a video archive of the most pertinent moments. 
According to a Monday poll from CNN/ORC International, Clinton has the support of 52% of Democratic primary voters, trailed by Sanders who has 38% of Democratic primary voters' support. According to that data, O'Malley is polling at 2%. A separate poll from Fox News says Clinton has 49% of democratic voters' support, compared to Sanders' 37% and O'Malley's 1%. 
Read more: 
Here are three standout comments from each candidate.
Sanders 
On Wall Street:
"If you are telling me that at a time when - Wall Street's recklessness, greed and illegal behavior brought this country to its knees, than I am going to say to them that they're going to have to start paying their fair share of taxes. Fine, if that's the criticism I accept it. I demand that Wall Street start paying its fair share of taxes."
On the challenges America faces:
"It just seems to me that the crises that we face as a country today, and we didn't even get into climate change to a significant degree: inequality, poverty in America, an obscene and unfair campaign finance system. These problems are so serious that we have got to go beyond establishment politics and establishment economics."
On his gun legislation voting history, particularly regarding vendor liability:
"I voted for the bill, and the reason I voted for the bill is you got a bill which has a number of elements in it, among other things it has a section which says we should not be selling ammunition which will pierce policemans armor and protection. I think that's a right thing. It had a section in it which said that we want to have safety locks for children on guns. That makes sense to me."
Clinton 
On foreign relations:
"I think it's imperative you do your very best, every president, and certainly, I will, to avoid military action.  It should be the last resort, not the first choice, to use diplomacy, even if it's slow, boring, hard to continue to persist and be patient to get results."
On her support from Obama:
"I think the American public has seen me exercising judgment in a lot of other ways. And, in fact, when that hard primary campaign was over and I went to work for President Obama and he ended up asking me to be secretary of State, it was because he trusted my judgment."
On the opposition:
"One of the most distressing aspects of this campaign has been the language of Republican candidates, particularly their frontrunner, that insults, demeans, denigrates different people.  He has cast a wide net.  He started with Mexicans. He's currently on Muslims. But I found it particularly harmful the way he has talked about Muslims, American Muslims and Muslims around the world. And I have called him out continuously about that."
O'Malley
On equal rights for same-sex couples and transgender anti-discrimination legislation:
"We've yet to arrive at a perfect union, but every generation we have the opportunity to make it a more perfect union. In my own state we were one of the very first to pass at the ballot marriage equality. I also passed the Transgender Anti-Discrimination bill in the state of Maryland as well."
On policy reform:
"I am the only one of the three of us who has a track record not of being a divider, but of bringing people together to get meaningful things done: raising the living wage, making college more affordable, creating jobs, healing wounds and divisions. That's what our country needs right now."
On Trump's "fascist rhetoric:"
"We are a great people. We are a generous and we are a compassionate people.  And we are far better than the sort of fascist rhetoric that you hear spewed out by Donald Trump. The enduring symbol of our country is not the barbed wire fence. It is the Statue of Liberty."