Olivia Caridi on 'The Bachelor' Went From Twitter's Season Favorite to Awkward Mess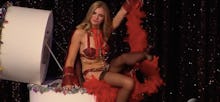 Mic/ABC
Olivia Caridi was the icing atop a very awkward cake on Monday night's The Bachelor, as dessert seemed to be a central focus for her in this week's episode. After jumping out of a Las Vegas birthday cake donning a red bikini, gold chains and fur, the contestant who previously caught viewers' attention with her feet revealed she was aware of just how terrible of a display her performance was in Vegas, cried to Ben and asked for alone time with the bachelor.
It seems as though the tides are turning on the 23-year-old Texas native, who many predicted would become the season favorite. The internet's formerly beloved Caridi, who tried her hand in TV news reporting prior to joining the show, is now arguably the least liked by online audiences. 
It was an episode filled with crying, multiple awkward dates and separation. Haley and Emily, twins who joined The Bachelor for season 20 in the quest for love, were divided after a strange two-way date to their mother's house in Las Vegas. After seeing pictures of her boyfriend plastered to her wall and feeling a stronger connection with Emily, Haley was left with her mom in Vegas rather than returning to compete for Ben's love on the ABC reality show. 
Read more:
· Inside Rihanna's #ANTIdiaRy Campaign: A Secret Room in New York Reveals Hidden Clues
Spoiler alert: Monday night's Bachelor sent home three women: Amber and Rachel were both eliminated from the competition, with Haley remaining in Vegas after the twins' date to Sin City.
"Bachelor recap: Olivia is crazy. That is all," Greer Grammer, who plays Lissa on MTV's Awkward, wrote on Twitter. 
Others echoed the actress' sentiment across social media following Monday night's episode:
"If Olivia can make it through another week of The Bachelor then I can make it through another week of college," Megan Kee wrote Monday night.
A Twitter profile named "Olivia's Mouth" has already gained nearly 20,000 followers for mocking a rather candid facial expression produced by Caridi. "Just a giant set of champers looking for love," the bio states.
Unfortunately for Twitter, audiences will receive yet another serving of Caridi on The Bachelor in the following episode.