Lena Dunham Blasts Hillary Clinton Campaign Coverage as "Rabidly Sexist"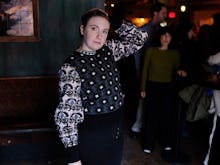 Nicholas Hunt/Getty Images
American actress, comedian, writer and producer Lena Dunham came out swinging against how media outlets have covered the campaign of Democratic presidential frontrunner and former Secretary of State Hillary Clinton. During an interview with Variety, the 29-year-old Girls creator ran through a list of descriptors she'd like to see banned from media coverage of the female candidate, terms she labeled "rabidly sexist." According to Dunham, that sort of rhetoric she said isn't being applied to male candidates vying for the role of commander-in-chief.
"The way that Hillary Clinton's been talked about in the media is so gendered and rabidly sexist in every single portrayal," Dunham told Variety at the publisher's studio at Sundance Film Festival in Park City, Utah. "Whether it's the attacks on her personal life or the adjectives that are used to describe her clothing, we have to do a full re-examination."
Read more:
"I literally want to make a list that we hand to media outlets that says, 'These are the words you can't use when describing a female candidate: shrill, inaccessible, difficult, frumpy, plastic,'" Dunham added. "If we were allowed to talk about male candidates like that, I'd have a fucking field day. I'd enjoy my life so much."
Reacting to Dunham's comments on Twitter, not all users were ready to praise the star for her remarks. Many pointed out that the appearances of male candidates, particularly those belonging to the GOP, have faced similar scrutiny in media coverage.
Yet, others reacting on Twitter were ready to applaud Dunham for her thoughts on perceived sexism in the media.
Dunham has been a vocal Clinton supporter and even commandeered the candidate's Instagram account in early January for one day. "The way [Clinton] has been treated is just more evidence of the fact that our country has so much hatred toward successful women," Dunman said recently in Manchester, New Hampshire, while attending an event for Clinton's campaign, according to the New York Times. 
And in September, Lenny, Dunham's media project, published footage of a Clinton-Dunham interview in which the two discussed sexual assault on college campuses.