Who Is Corey Hawkins? Why 'Straight Outta Compton' Star Is Perfect for '24' Reboot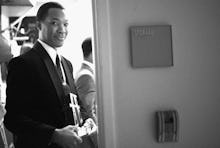 Mike Windle/HFA2015/Getty Images
Riding on the success and exposure from Straight Outta Compton, Corey Hawkins has signed on to be the male lead of 24: Legacy, a reboot of the 2001 series 24, according to Deadline. Earlier this month, Fox announced the reboot would get a new cast, with an African-American or Latino lead. Hawkins will play military veteran Eric Carter, who will have a female leading co-star, and like the original series, fight terrorists in action-packed plots. 
Hawkins' acting career is picking up speed since his success in portraying Dr. Dre in the critically acclaimed Straight Outta Compton, which was his fourth movie but first lead role. The N.W.A biopic was an instant hit — it received rave reviews and sent Hawkins' name into the public conscience. 
Aside from 24, Hawkins has several upcoming major projects, including AMC's The Walking Dead and next year's big-budget film Kong: Skull Island, which will feature Oscar nominee Brie Larson, Samuel L. Jackson and Straight Outta Compton co-star Jason Mitchell, according to Complex. 
Read more:
Hawkins has a knowledgeable background on acting, despite a somewhat short filmography. He attended Juilliard School, and made his first film debut in 2012 in Allegiance, in which he played a soldier. He's also had small roles in Iron Man 3 and 2014's Non-Stop. 
His performance hasn't been limited to the screen. In 2014, he played Tybalt alongside Orlando Bloom on Broadway's Romeo and Juliet.
"I hope to break down that barrier and play whatever type of character in whatever genre of picture I'm interested in," Hawkins told the Philadelphia Sunday in August. "But you need the versatility to be able to do that, and the versatility comes through your training. I think Juilliard was a great playground for that, because you could be open to anything."
For Straight Outta Compton, Hawkins dedicated himself to the role of Dr. Dre, undergoing serious physical training for the movie's high-energy stage performances and speaking with Dr. Dre every day of filming, the Los Angeles Daily News reported. 
In 24: Legacy, Hawkins' character will independently succeed Jack Bauer, played by Kiefer Sutherland, who is not involved with the reprisal, Deadline reported. Carter is a returning military Army Ranger who comes from a rough background. He gets involved with the Counter Terrorist Unit when his past comes back to haunt him, according to Deadline. There's still no airdate for the show, but it's slated to have 12 episodes.
Some may consider Straight Outta Compton to have been snubbed from awards season, and most notably the Oscars, but the momentum it's given Hawkins and his career is undeniable.