Mom's Note Goes Viral After Teen Daughter Told to Put on Spanx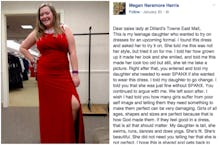 Think back to when you went shopping for your middle school dance. You were somewhere around 13. You were full of hope. You were full of dreams. You were excited to find a dress that would make you feel like a princess, or at least a badass with a later-than-usual curfew.
Lexi Harris, a 13-year-old from Wichita, Kansas, was having that same experience earlier this month. She and her mother, Megan Harris, went shopping at a Dillard's in Wichita for her middle school formal. Lexi tried on a long, candy-apple red number that she didn't love, but her mom snapped a photo of it anyway. Then a saleswoman approached them and suggested that the 13-year-old needed body-shaping undergarments like Spanx.
"I told you that she was just fine without Spanx. You continued to argue with me," Harris wrote in an open letter to the saleswoman, which is now going viral on Facebook. She admonished the saleswoman for attempting to body-shame a young girl, someone who already feels enough pressure from society to look a certain way. 
"I wish I had told you how many girls suffer from poor self image and telling them they need something to make them perfect can be very damaging," the concerned mom wrote, before adding, "If they feel good in a dress, that is all that should matter." 
"My daughter is tall, she swims, runs, dances and does yoga," Harris concluded. "She's fit. She's beautiful. She did not need you telling her that she is not perfect." 
A local TV station reached out to Dillard's for comment on the story and was told, according to Fox 8 Cleveland, "At Dillard's, our mission is to help people feel good about themselves by enhancing the natural beauty found in all of us," before adding that they've reached out to Harris and her daughter regarding the situation. 
Since being posted on Jan. 20, Harris's post has racked up more than 310,000 likes and 51,000 shares. Under the post, there are thousands of encouraging comments, like "I really do appreciate the nice messages you are sending Lexi and other girls, regardless of their size, that if they feel beautiful, that is all that matters."
What's relatable is clearly anger over a rude saleswoman (who hasn't been dissed or disregarded in a dressing room?); but perhaps even more relatable is the struggle of women to keep their daughters (and hey, maybe even their peers) from slipping into self-doubt over their clothing, beauty, weight and self-worth.
From sexist dress codes to unrealistic bodies all over magazines, young girls and women face enough pressure for what their bodies may or may not look like. Wearing Spanx because you want to wear them? Totally fine. Suggesting to a 13-year-old girl (who didn't ask your opinion) that she needs to wear them too? That's just unnecessary.
h/t Stylist