A Pastor Preached a Sermon About Welcoming Syrian Refugees While Trump Sat in the Pews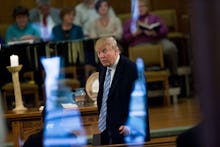 Donald Trump learned a lesson from a book that sold a few more copies than The Art of the Deal. 
While campaigning in the few days left before the Iowa caucus, the business mogul and 2016 Republican presidential candidate visited a church service at First Presbyterian Church in Muscatine, Iowa. 
There, the Rev. Pam Saturnia preached a sermon about welcoming Syrian refugees and Mexican immigrants, the Washington Post reported. 
Saturnia read from the fourth chapter of the Book of Luke, which contains this quote from Isaiah: 
 "The Spirit of the Lord is upon me, because he has anointed me to bring good news to the poor. He has sent me to proclaim release to the captives and recovery of sight to the blind, to let the oppressed go free..."
In her sermon, Saturnia talked about Jesus' ministry to those on the margins. 
"He reminds [the people of Israel] that two of the greatest prophets in the history of all of Israel came to the aid of foreigners and people on the outside," Saturnia said. Of course, in this passage, the people to whom Jesus are preaching get mad that he is teaching about the marginalized and drive him out of Nazareth, his hometown. 
Saturnia also quoted another theologian who said the preacher must "comfort the afflicted and afflict the comfortable," and preached about Jesus' word being for those who are the "most unloved, the most discriminated against, the most forgotten in our community and in our world." 
"Jesus has come to proclaim the year of the Lord's favor on the teenagers who are homeless, on the Syrian refugees, on the Mexican migrants, on the people who find themselves prisoners of addiction and their families, on the poorest of the poor in Haiti. Jesus has come for them. Jesus has come for everyone." 
Saturnia said the day's reading was "calling for our consciences to be pricked." 
Later that day at a news conference, Trump showed that his conscience remained unpricked. 
"I can only tell you that I want to take care of all people, but with Syrians, we just can't do it here. But I do want to build a safe zone [in Syria]," Trump said, according to the Washington Post. "We should have done that a long time ago."
Aside from the sermon, another reading from First Corinthians addressed humility, the Washington Post reported. 
"I heard that. I wonder if that was for me," Trump said of the reading. "[I]t was an appropriate phrase ... Humility. Perhaps she had something in mind."
"I have more humility than people think," he added.