Everything Being Added to and Leaving Netflix in February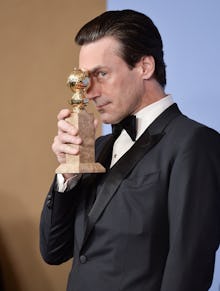 George Pimentel/Getty Images
February will be a bittersweet month for Netflix fiends. While streaming service is adding some key films like 1999's Cruel Intentions and 2006's Talladega Nights: The Ballad of Ricky Bobby, it's also getting rid of some critically-acclaimed classic films like Rain Man and the 2008 Oscars best picture The Hurt Locker.
On the TV series end, season one of the Breaking Bad spinoff Better Call Saul can be streamed on Netflix as of Feb. 1, and season seven (part two) of Mad Men will finally hit the service on Feb. 5.
Read more:
Here's a full list of everything coming to and leaving Netflix in February (so you can properly arrange your Netflix and chill schedule for the month):
Arriving
Feb. 1 
Better Call Saul: season one
Armageddon
Star Trek V: The Final Frontier 
Collateral Damage
Sin City 
Cruel Intentions
Teen Witch 
Charlie's Angels
Johnny English 
Talladega Nights: The Ballad of Ricky Bobby
Masha's Tales (season one)
Pokemon: XY (season one)
Scooby-Doo Scooby-Doo 2: Monsters Unleashed 
The Little Engine That Could
The Lizzie Borden Chronicles (season one)
Para Elisa
Feb. 3
I Love You Phillip Morris
Feb. 4
Love (film)
Feb. 5 
Hannibal Buress: Comedy Camisado 
Care Bears & Cousins 
Turbo: F.A.S.T. (season three)
Mad Men (season seven, part two)
Feb. 6 
Lila & Eve
Dope
Feb. 15
Open Season
Feb. 16
Atonement
Feb. 17
The Returned (season two)
Feb. 19 
Cooked
Love (series)
Feb. 22
3rd World Cops 2
Feb. 24 
Marvel Super Hero Adventures: Frost Fight!
Crouching Tiger, Hidden Dragon: Sword of Destiny
Theo Von: No Offense 
Fuller House
Leaving 
Feb. 1
Benny and Joon 
Big Fish
Blue Crush 
Rain Man
Ray 
Terms of Endearment
The Firm 
The Terminator
The Naked Gun 
The Hurt Locker
Doctor Who