Arcade Fire Concert Dates 2016: Cities and Ticket Info for Upcoming Shows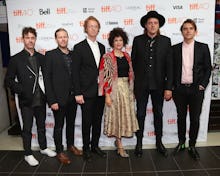 Taylor Hill/Getty Images
After a two-year hiatus, Grammy award-winning Indie-rock band Arcade Fire announced three upcoming performances including a February charity event for Haiti in Montreal and two European music festivals in July, one in Spain and one in Portugal. 
According to Diffuser, Arcade Fire's first performance post-hiatus will be headlining a charity concert in Montreal on Feb. 19 for KANPE, a charity to enable Haitian families and founded by the band's vocalist Régine Chassagne. In July, the band is set to headline two European music festivals — Bilbao BBK in Spain and NOS Alive in Portugal — the first taking place between July 7 through July 9 and the second on July 9.
Read more:
Tickets: Tickets to Spain's Bilbao BBK are available on the event site starting at roughly $99 for three-day passes. One day passes will be "available soon," according to the site. Both three-day and one-day passes to Portugal's NOS Alive tickets are on sale here for roughly $60 and $130 respectively.
Tickets to the Montreal KANPE charity gig are pre-selling for $45 on the site.
The band has yet to perform since 2014 and yet to release music since its 2013 fourth album Reflektor, which they followed up with the music documentary Reflektor Tapes that was awarded at Sundance 2015 and premiered in theaters September 2015. Band members used the hiatus as an opportunity to work on solo projects, during which core member Will Butler released his first solo LP Policy in 2015 and drummer Jeremy Gara announced a upcoming solo album titled Limn.