Bernie Sanders' 1987 Unearthed Album 'We Shall Overcome': Track List and Lyrics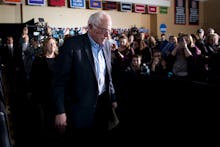 Jae C. Hong/AP
Bill Clinton did it with "Imagine" by John Lennon. George W. Bush did it for "Green, Green Grass of Home." Barack Obama did it with "Let's Stay Together" by Al Green. But Democratic hopeful Bernie Sanders really took the singing politicians cake by releasing his own folk album, We Shall Overcome, in 1987, back when he was the mayor of Burlington, Vermont. The five-track EP was unearthed and rereleased in 2014 — just in time for the primary elections.
We Shall Overcome was originally recorded for local Vermont musician Todd Lockwood's now-closed BurlingTown Recordings label, Seven Days reported. The idea behind the album is that then-mayor Sanders would perform renditions of several chosen songs as a part of a bigger project that attempted to be the Vermont-version of the 1985 We Are the World album, which features celebrities like Michael Jackson and Lionel Richie singing for a charitable cause, according to Rolling Stone. 
Read more:
The songs Sanders chose to cover were folksy classics, including Pete Seeger's "We Shall Overcome" and "Banks of Marble," and the patriotic go-to "This Land Is Your Land." Also included is the Civil Rights Movement-associated song is "Oh Freedom," in which Sanders sings, "For thousands of years/ In every nation on this earth/ Men and women have put their lives on the line/ Believing that freedom and human dignity are often more important than life itself."
Source: Soundcloud
Lockwood has uploaded 30-second previews of all five songs on SoundCloud, so audiences can hear Sanders sing, "And that on this earth there will be peace/ There will be justice/ There will be human brotherhood" in "We Shall Overcome." 
Source: Soundcloud
Source: Soundcloud
But since hopping on the nation's biggest campaign trail, Sanders has downplayed the album, according to ABC. "Part of it seems a little preachy now, but I think it's a pretty cool project," Lockwood said, according to Seven Days. "I don't see any reason why he would be embarrassed to have it out there. When you listen to what he's saying, a lot of the message is exactly what he's saying now — the one percenter stuff. It's been in his repertoire for a long time."
Below is the track list for Sanders' 1987 We Shall Overcome, from iTunes, where it can be purchased:
1. "Oh Freedom"
2. "The Banks of Marble" 
3. "Where Have All the Flowers Gone"
4. "This Land Is Your Land"
5. "We Shall Overcome"
Correction: Jan. 28, 2016