Uber Is Secretly Tracking Drivers' Phones to Make Sure They're Driving Safely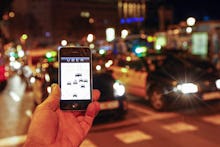 Your phone and watch can tell you you're not standing enough. They can tell you you haven't taken enough steps. Did you know they can monitor your driving as well, telling you to stop riding someone's bumper or letting you know you're sub-par on the road?
For months, the on-demand ride-service app Uber has been monitoring its drivers' road habits, the Guardian reports. Using the accelerometer in drivers' phones, the company can track when drivers stop and start abruptly, which could mean that a driver is tailgating or not providing a smooth ride for passengers. 
Uber is starting with a small, quiet trial. Without notifying drivers that they were being tracked, Uber began monitoring some of them in Houston in late 2015.
Tailgating isn't the only behavior Uber wants to course-correct. If a phone jiggles around too much, it could indicate that a driver is texting, and Uber can send a small plastic mount so that the driver has no excuse to be holding his phone anymore.
"We could use technology to determine that the average South Florida Uber driver goes 50 mph and takes 50 minutes to drive from Miami to Fort Lauderdale," Uber's chief security officer Joe Sullivan wrote on the company blog. "For drivers who go much faster on that stretch, we can ask them to curb their enthusiasm."
The data surveillance is being used in tandem with the ratings system — passengers give drivers one to five stars, using the app — to flush out unsafe drivers and help crack down on any behavior that makes the rider experience imperfect. In the past, drivers with low ratings could be sent to punitive and expensive driver-training courses, where they get tips like what kind of deodorant and body wash will be least offensive to riders. They could also be flushed out of driving permanently.
Human drivers aren't just risky, they're expensive. As Bloomberg reported Thursday, Uber is taking an increasingly higher share of driver profits — but the larger solution may be a digital hive mind of autonomous vehicles. 
Uber CEO Travis Kalanick revealed in October that Uber's eventual plan is to replace human drivers with self-driving cars. In Pittsburgh, Uber has poached more than 40 autonomous-vehicle experts from Carnegie Mellon University's robotics program and hired security researchers.
In the meantime, drivers continue to demonstrate their dissatisfaction. In early January, two groups of Uber drivers filed a lawsuit against the company for allegedly misclassifying them as contractors instead of employees, while taxi drivers in France, angry over having to compete with Uber, are lighting fires on the highway and throwing smoke bombs in protest.
h/t The Guardian