Who Is John Logie Baird? Google Doodle Honors Television Pioneer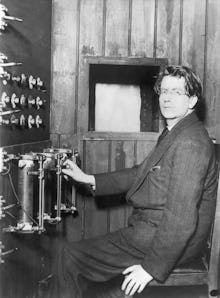 Keystone-France/Getty Images
Google's Tuesday search homepage takeover commemorates the 90th anniversary of a hugely important moment in the history of television: the first mechanical TV demonstration. In addition to the landmark event, the Google Doodle honors the mechanical television's creator, Scotland native John Logie Baird. The famed engineer was born in Helensburgh, Scotland, on Aug. 13, 1888, according to his biography, and died on June 14, 1946, at the age of 57.
Baird is credited with inventing a mechanical television device, which he called the "Televisor."
Baird was the first man to successfully televise objects in motion. In 1924, Baird approached that goal by first televising outlined objects. The following year, the engineer made another advancement when he televised human faces. In 1926, Baird televised moving objects at the Royal Institution in London. Baird made another advancement when he televised color images in 1928.
Read more:
Baird studied at a preparatory school for boys known at the time as Larchfield Academy. He later continued his studies at both the Royal Technical College and the University of Glasgow. The inventor eventually left his native Scotland for the United Kingdom, where he continued his engineering work. 
On Tuesday, users and institutions posted tributes and remembrances of the inventor on Twitter.
The inventor's design came into competition with the Marconi EMI system, an electric television, which the BBC picked over Baird's design in February of 1937.
"Although broadcast television will no longer monopolize the home screen, it will not entirely disappear because it has the unique ability to capture major current events and sporting events, as they happen (in real time)," wrote Malcolm Baird, the inventor's son, in a retrospective feature commemorating television's nine-decade-long stint and examining the history of the medium. "In this it is helped by new technology in the form of small (handheld) and robust cameras and improved satellite and internet links. However, broadcast television is vulnerable to competition in areas that do not depend on immediacy, such as drama, music and documentaries."
"J.L. Baird predicted that television could be a force for world peace by allowing people to see directly how life is lived in other countries. In his words, "television is tomorrow's diplomat,'" Malcolm Baird continued.