'Hamilton' Musical Coming to San Francisco, Los Angeles in 2017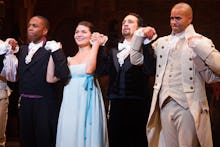 Charles Sykes/AP
Broadway smash hit Hamilton is hitting the road and heading for California — eventually. News broke Tuesday that Hamilton would kick off its national tour in San Francisco, with performances starting at the SHN Orpheum Theatre in March 2017. Then, the biomusical will move to Los Angeles, where it will run at the Pantages Theatre from Aug. 11 to Dec. 30, 2017, as the headliner for the theater's 2016-2017 season. 
"We make these decisions based on the size of the market and the power of the market to sell tickets for long periods of time," producer Jeffrey Seller said, according to the New York Times. "Both cities have accommodated shows for even longer stays."
Read more:
Hamilton is the brainchild of MacArthur Genius Lin-Manuel Miranda, its star and writer — he based the script on historian Ron Chernow's 2005 biographic tome, Alexander Hamilton. The show opened Feb. 17, 2015, at the Public Theater in New York City and immediately attracted attention; the concept of a hip-hop retelling of a founding federalist's political story is an incongruous one, but it caught on with audiences. Tickets quickly became impossible to find and celebrities flocked to fill seats. 
The show moved to Broadway's Richard Rogers Theatre in July and continued its sold-out run. Even in 2016, tickets are hard to come by, selling on StubHub for as much as $600 for select showtimes. Hamilton will move to the PrivateBank Theatre in Chicago in September.
According to the Los Angeles Times, the Pantages sets a high attendance bar: Hamilton's Los Angeles home holds 2,700 seats, more than two times the number at the Richard Rogers'. Still, the show's track record in New York indicates that filling the house won't be too large a problem.
Casting has not yet been announced, but the call remains open: Stage actors with dancing and rapping chops should visit the Hamilton auditions page for a chance to join the national tour.