Kansas Lawmaker Mitch Holmes Miraculously Realized His Slut-Shaming Dress Code Was Sexist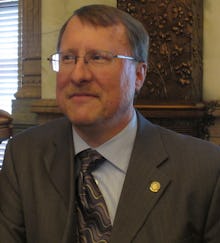 From sexual assault to gendered school dress codes, women have been blamed for men's reactions to their bodies for years. Kansas Senate committee chairman Mitch Holmes upheld this sexist cultural legacy by requiring witnesses testifying to adhere to a gendered dress code. But after copious backlash, it seems Holmes has had a change of heart: On Tuesday, he apologized and retracted the dress code, according to the Washington Post.
Holmes initially defended his policy, which required witnesses to avoid "low-cut necklines and miniskirts," which he deemed "inappropriate." This rule "says all conferees should be addressed in professional attire," the lawmaker told local television station KWCH on Friday.
Holmes' fellow lawmakers were quick to point out the clearly gendered double standard at the heart of Holmes' requirement. 
"My first thought was, 'For crying out loud, what century is this?'" Kansas Sen. Laura Kelly told KWCH, for example. "There was no suggestion that men needed any help deciding what to put on in the morning."
In a statement Tuesday, however, Holmes recognized that his requirements were, in fact, sexist. 
"My failure to clearly specify that all conferees, regardless of gender, should strive to present themselves professionally is unacceptable," according to the statement, the Wichita Eagle reported. "I apologize and meant no offense. I have decided to retract the conferee guidelines."
Holmes is hardly the first man in a position of authority to attempt to police women's appearance in the name of propriety, however. Similar battles have been taking place between administrators and students in high schools across the country.
"Skin is a sexual distraction to a male," Jim Bazen, principal of Plymouth Christian High School in Grand Rapids, Michigan, wrote in an op-ed for the Grand Rapids Press in October. Exposure to female students' skin, he continued, forces their male peers to regard them as "sex objects" and women, therefore, must be told to "cover up!"
But high school students across are setting an example for all women held to this offensive double standard and pushing back on these dress codes. As Jane, a high school student in Philadelphia, told Mic in December, "Inequitable dress codes are a perfect example of the patriarchy, subconsciously or not, putting young women 'in their place' time and time again."
Perhaps these principals, and anybody else who upholds the sexist notions about women's bodies as distractions at the heart of these codes, will follow Holmes' lead and similarly reconsider.
Watch the latest episode of Flip the Script on what dress codes actually do:
h/t the Washington Post