Here's How to Livestream Your GoPro Footage on Periscope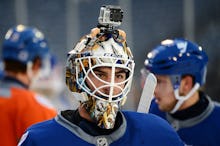 Brian Babineau/Getty Images
Both GoPro cameras and Periscope livestreaming just got simultaneous upgrades after Twitter-owned Periscope announced that GoPro users can live stream their HD-quality wide-angle footage on the livestreaming app as of Monday. 
"Periscope lets you see what's happening in the world right now, unedited and unfiltered," GoPro wrote in a statement Monday. "Integrating GoPro offers Periscope broadcasters a new tool to help tell their stories more creatively, while GoPro content creators now have a new platform and audience with Periscope and Twitter to share their experiences, live."
Read more:
The new feature is compatible with the GoPro Hero4 Black and Silver cameras and iOS. With the new capability, Periscope is able to detect when a GoPro is connected to the iPhone, which automatically triggers a live broadcast option on the app. The feature allows users to toggle between GoPro and iPhone live footage while recording as well.
Periscope iOS engineer Pablo Jablonski sees this collaboration being a game-changer for live coverage of future athletic events like the X Games. "As a skier myself, I've always loved extreme sports, and I love how GoPro can show us all of the crazy things these athletes can do," Jablonski said in the press release. "As an iOS engineer on Periscope, bringing these two technologies together has been a the fulfillment of a longtime personal wish. Starting with X Games and moving forward, Periscope and GoPro together will bring these live moments to all the fans."
The GoPro-Periscope integration comes after Twitter announced the integration of Periscope live broadcasts into profiles and timelines, so Twitter users can expect to find live GoPro-quality footage in their feeds soon.