Iowa Poll Shows Trump and Cruz in a Dead Heat Just Days Away Before the Caucuses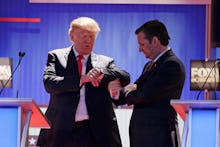 There could be a photo finish in the Hawkeye State.
Republican presidential frontrunner Donald Trump and his closest rival, Texas Sen. Ted Cruz, are locked in a statistical tie in a new Quinnipiac University poll released Tuesday, less than a week before Iowans caucus to choose a nominee.
Trump drew 31% support to Cruz's 29% among likely GOP caucusgoers, with Texas Sen. Marco Rubio finishing third with 13% support. The rest of the Republican pack is in single digits.
Just 2% of those likely to caucus told Quinnipiac they're undecided — but a significant 39% of those who did choose a candidate said they could still change their minds.
"Despite Sarah Palin's endorsement of Donald Trump and Gov. Terry Branstad's criticism of Sen. Ted Cruz and despite — or because of — Sen. Cruz's 'New York values' comments, the Iowa Republican Caucus remains too close to call," Quinnipiac's Peter Brown said in a release.
The takeaway: Game on.
"One week before the caucuses gather, the question is which candidate has the best field organization. If the events of the last two weeks haven't moved the needle, one wonders what would change it in the next six days," Brown said, referring to the candidates' nearly unchanged positions from a Jan. 11 Quinnipiac survey. "It all comes down to turnout."
Trump and Cruz are bearing down in Iowa in the final days before the vote, which will be a test of strength and staying power going into primaries in New Hampshire, South Carolina and other early states.
The two will join their rivals Thursday night in Des Moines, Iowa, for the final televised debate before the caucuses begin.
Right turn: The new numbers, Quinnipiac pollsters said, show Cruz leading with voters in the most right-leaning wing of the party.
Cruz and his supporters have sought to weaken Trump's appeal by essentially painting him as a closet liberal who doesn't represent the true spirit of the Republican Party. It may be working: Cruz leads Trump 50% to 34% among self-identified members of the tea party; 39% to 27% among white evangelical Christians; and 49% to 29% with those who consider themselves "very" conservative.
Trump, conversely, leads Cruz 37% to 6% with voters who call themselves "moderate" or "liberal," and 29% to 21% with likely caucusgoers who see themselves as only "somewhat conservative."
Quinnipiac found the economy the top-ticket issue for GOP voters, followed by terrorism, foreign policy and the deficit.
Big picture: Nationally, "expectations that Trump will win the nomination have jumped by 25 percentage points since November among leaned Republicans in a new ABC News/Washington Post poll" also released Tuesday, the pollsters said.
That survey found two-thirds of those polled said they'd accept Trump as the GOP nominee — "and he's seen by 56% as their most electable nominee in the general election next fall."