Yet Another Woman Has Been Killed Seemingly for Turning Down a Man Who Asked Her Out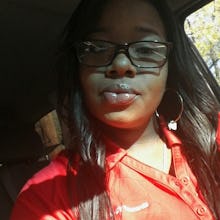 Many women feel uncomfortable when men tell them to smile or make comments about how great they look while they walk down the street, a point that's been underscored over and over again by the anti-street harassment movement. But even though some feel that catcalling is fairly harmless, many women know the truth: that rejecting a man in public could end up getting you bullied, beaten or even killed.
At about 2 a.m. on Friday, that's what happened to 29-year-old Pittsburgh woman Janese Talton-Jackson. Earlier in the evening, Talton-Jackson had been at a bar called Cliff's, where a man named Charles McKinney, 41, reportedly approached her to ask her for a date. Police say the woman rejected McKinney's advances shortly before closing time, then left the bar. When she did, McKinney followed her outside, shot her in the chest and fled. Talton-Jackson was found laying in the city street and was pronounced dead at the scene.
According to KDKA Pittsburgh, McKinney was apprehended after being shot by Pittsburgh police officers in the course of a shootout. (The officers involved in the chase have been placed on administrative leave for opening fire on the suspect.) He is in stable condition and has been charged with homicide.
Were Talton-Jackson the only woman to be killed for daring to rebuff a stranger's advances, her death might be considered a one-off act of violence committed by a lone maniac with a gun. But she's far from the only woman who has lost her life apparently for turning down a man who asked her out. In the past two years, at least four other women have been brutally murdered seemingly for turning men away — an idea that at least one man challenged during trial — while many more have survived other violent attacks. 
In October 2014, two women were attacked within two weeks of each other seemingly for rejecting strangers' advances. One, an unidentified Queens, New York, woman, survived having her neck slashed in the lobby of her apartment building after turning a guy down. The other, Detroit native Mary "Unique" Spears, was shot three times after she refused to give a man her phone number, eventually dying from her injuries. 
The following month, 30-year-old Dana Kimbro, who was eight months pregnant at the time, turned down Jesse Cervantes, a stranger she met on a San Antonio, Texas, street. Cervantes reportedly then followed her, slammed her against the sidewalk and stabbed her in the abdomen. About six weeks later, in December, a Spokane, Washington, woman survived an attempted murder by Avery Quin Zion Latham, an acquaintance who strangled her and slit her throat with a pocket knife, according to reports.
Again, that was just in 2014.
The blog When Women Refuse is full of more stories of women facing violence for rejecting men's advances, submitted by readers or taken from headlines. As Deanna Zandt, the activist who created the Tumblr, told Think Progress shortly after it launched, the goal was to highlight the fact that "we still don't view gender-based violence as a large cultural issue — we tend to think of these as isolated incidences." 
But as Talton-Jackson's murder and each of the attacks that came before it show, that's absolutely not the case. 
h/t Jezebel
June 7, 2016, 3:38 p.m. Eastern: This story has been updated.