A Short History of Art, Naughty Bits and the Eminent Guests Who Couldn't Look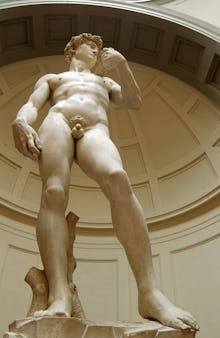 With international sanctions continuing to lift, Iran is swiftly relaunching engagement with the international community. Leading that effort is the country's president, Hassan Rouhani, who was in Italy, where he signed more than $18 billion worth of business contracts between the two countries, on Monday.
That achievement, however, was overshadowed by a curious trip the president took to the historic city's Capitoline Museums. Alongside Italian Prime Minister Matteo Renzi, Rouhani strolled the galleries that featured a number of statues hidden away in white boxes. The indecorous treatment of some of the world's most precious works of art came in the hopes of sparing the conservative Iranian leader the embarrassment of gazing upon nudity, the Local reported.  
"The problem with the statues was connected with the government," Mauro Gabrealle, a spokesman for the Mayor of Rome press office, told Mic. "The Palazzo Chigi [the prime minister's residence] ordered this decision. Mic reached out to the museum which declined to comment.
It's not the first time Italy has shelved the nudes to placate conservative foreign guests. A similar scene played out when Abu Dhabi Crown Prince Sheikh Mohammed bin Zayed Al Nahyan visited Florence in 2015. It was, once again, on a museum tour that "a wind breaker bearing the Fleur de Lis – the iconic lily of Florence" was laid across the statue Gazing Ball by Jeff Koons, according to the Local.
Renzi is also not the first to grapple with how to reconcile the West's nude-friendly Greco-Roman leanings with many of the modern world's more conservative sensibilities. In 2002 the U.S. Justice Department spent $8,000 to have drapes installed, partly to cover the exposed breast of the Spirit of Justice statue, a prominent feature in the agency building's Great Hall, to reportedly spare then-U.S. Attorney General John Ashcroft the indignity of having it in photos behind him.
Even in Italian Renaissance times, the debate raged with too much flesh often proving controversial. One of the most famous examples concerned no less a subject than Michelangelo's "Last Judgement," which currently graces a wall in the Vatican's Sistine Chapel. The fresco caused a stir when it was completed in 1541 for the sheer amount of nudity in the work. One story goes that, when an Italian official Biagio da Cesena snuck a peek at the picture before its unveiling and took issue with the nudity, Michelangelo struck back by painting da Cesena into the landscape — in hell, being tortured by demons. Da Cesena complained to Pope Paul III who was said to be amused. Loincloths were added after the painter's death.  
So to clothe or not to clothe — it's a debate that has raged, arguably, since the beginning of time, and it's one likely to be with us for many years to come.