Here's How to Get Tickets to 'Hamilton' in Chicago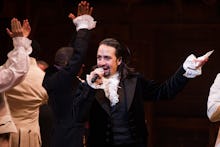 Charles Sykes/AP
Musical theater fans went totally ham when the Broadway blockbuster Hamilton announced, back in December, that the show would have an "open-ended run in Chicago" starting Sept. 27.
The hip-hop musical about the life of founding father Alexander Hamilton has been a Broadway smash hit, and Hamilton's popularity has made it notoriously difficult to get tickets (luckily, the show's cast keeps the hopefuls who line up outside the theater entertained with impromptu performances). So the question is, how can Chicago residents get their hands on the coveted tickets?
So far, no official date has been announced for the beginning of individual ticket sales for the Chicago Hamilton shows, a Ticketmaster representative confirmed to Mic. But TimeOut Chicago reported that tickets for "groups of 20 or more with a valid organization name" were available starting Jan. 5 through Broadway in Chicago.
Read more:
Hamilton producer Jeffrey Seller said, when announcing the show's run in Chicago, that the musical "will serve at the pleasure of the Chicago theatergoing audience," TimeOut Chicago reported. If the show is anywhere near as popular in Chicago as it has been in New York, it will be there for a very, very long time.