Active Shooter Reported at Naval Medical Center San Diego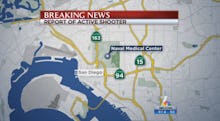 Authorities said on Tuesday that an active shooter incident was ongoing at Naval Medical Center San Diego after shots were reported at the complex's Building No. 26, according to CBS 8's Dan Cohen.
However, hours later, a Navy spokesman told Mic a Navy security team had completed one sweep of the building and found no casualties or gunman. The spokesman said a second search was ongoing to ensure an abundance of caution.
The medical center posted a notice to its Facebook page urging personnel and visitors to "run, hide or fight."
CW6 San Diego reported a witness reported at least three shots fired in the building, which serves as an office.
The Naval Medical Center San Diego "is comprised of more than 6,500 military, civilian, contractor and volunteer personnel," San Diego's NBC affiliate reports. "The 272-bed, multi-specialty hospital and ambulatory complex is located on 78.4 acres in the southeast corner of Balboa Park, about 2.5 miles from downtown San Diego."
NBC reported the facility's internal police force was responding to the incident, with San Diego police on standby. The station also saw a SWAT team heading towards the building.
This story will be updated.