"Chelsea Does Racism": Full Recap and Twitter Reaction to Handler Confronting Stereotypes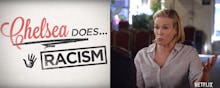 Mic/YouTube
In perhaps the most controversial episode of her four-part Netflix-produced docuseries Chelsea Does, standup comic and former late night TV host Chelsea Handler takes on the topic of racism. In the episode titled "Chelsea Does Racism," the 40-year-old comedian sits down with leaders from a variety of nonprofits and organizations, from the NAACP to the Anti-Defamation League, to discuss some of her most notorious jokes to date. 
"Is that offensive to you, that black people like watermelon and fried chicken?" Handler asks Rev. Al Sharpton while discussing stereotypes in America. Sharpton, who tries his very best to educate the comic on the effects of underhanded racism, immediately replies, "Yeah, 'cause I'm a vegetarian."
The episode isn't all about the laughs, however. At one point, Handler sits with the family of Walter Scott, the unarmed black man who was shot and killed by a South Carolina police as he ran away. Handler also visits Israel and takes a tour of the controversial Israeli West Bank barrier. 
Read more:
Handler does a solid job of guiding viewers from the hard-to-cover issues of the West Bank barrier and police brutality to more lighthearted moments, while remaining focused on the conversation at hand. 
"I think it's important to talk about race," Handler says in the show's third episode. "Let's all just have a discussion about it ... I make fun of everyone, no political correctness, and I think that's helpful."  When Handler visits an African-American history museum in the heart of South Carolina, a state the comedian notes is leading the country in police brutality, she asks the museum operators, "Don't you think, 'Fuck these white people' already? I mean, enough is enough."
Audiences across Twitter seemed to think the comedian handled the controversial subject in pure Handler fashion, sticking to her guns, refusing to apologize, but learning a thing or two along the way:
Some audiences said Handler is part of the problem, noting "Chelsea Does Racism" is the perfect name for an episode produced by the comedian known to be anything but politically correct:
Still, the episode managed to produce an online dialogue about racism, using specific moments from the episode to make a point about the current state of racial relations in the United States: