Naval Medical Center San Diego on "Lockdown" After Shots Fired: Video, Photos and More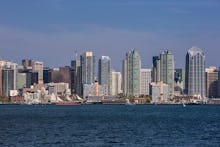 George Rose/Getty Images
An investigation found no evidence of shots fired after a San Diego naval hospital was placed on lockdown Tuesday for a report of a possible active shooter in the facility. Photos and video posted to social media showed traffic backed up along roadways and authorities responding to the scene. 
"We did an initial clearing of the building about found nothing that would indicate any kind of dangerous situation," Naval Base San Diego Commanding Officer Capt. Curt Jones said at a press conference, according to New York Daily News. Investigators are conducting a second room-by-room sweep.
An 8:00 a.m. Pacific post on the hospital's Facebook page said "an active shooter has just been been reported in building #26 at Naval Medical Center San Diego," the emergency announcement read. "All occupants are advised to run, hide or fight." 
The San Diego Police Department confirmed that NMCSD officials reported active shooting in the facility but weren't able to provide further information as of 8:15 a.m. Pacific Tuesday, NBC 7 San Diego reported. A SWAT team was on the scene, and no immediate reports of injuries were confirmed, according to NBC 7. 
"This is the first time I've ever seen this happen," a NMCSD staffer told NBC 7. "I'm thinking this is something real serious if the SWAT team has to come in. It's really concerning for me that there's something going on at the hospital." Traffic was backed up for miles since officials prohibited access to the area, according to NBC 7.
The center is "the largest and most comprehensive military healthcare system in the Western United States," according to its website. Law enforcement was on the scene Tuesday morning directing people away from the building, CNN reported.
More than 6,500 military, civilian, contractor and volunteers work at NMCSD. The center is located on 78 acres roughly two miles from downtown San Diego and contains a 272-bed hospital and ambulatory center.
Here's footage from the scene:
Jan. 26, 2016, 12:35 p.m. Eastern: This story has been updated. 
Correction: Jan. 26, 2016