The People's Choice and MTV Movie Awards Are Just as White as the Oscars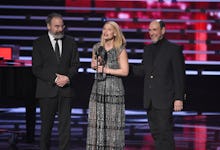 For the second year in a row, the Oscars failed to nominate a single person of color in their acting categories. This is, by any standard — other than Hollywood's, it seems — cause for concern. Academy of Motion Picture Arts and Sciences president Cheryl Boone Isaacs has already laid out groundbreaking changes to its membership rules, while actors and industry insiders — some measured, some out of their depth — continue to add their voices to a difficult discussion.
The latest Variety cover perhaps sums it up best: "Shame on us." The "us" in the headline, though, should extend far beyond the Oscars. They are merely the most egregious example of an industry that seldom sees beyond its stable of white stars.
The Oscars should and do exist in a league of their own. The slim golden statue remains the industry stalwart. But as the conversation about diversity in Hollywood moves forward, studios, industry insiders and audiences should keep looking outward to see how pervasive the lack of diversity really is. There are plenty of signs beyond the Academy Awards that things need to change — especially in other awards shows.
Take the People's Choice Awards, for instance. In the past 10 years, their most prominent acting categories (favorite movie actor/actress) have nominated 38 different actors. Of those, only three have been nonwhite actors: Denzel Washington, Halle Berry and Will Smith, all of whom have been nominated several times. Smith is the sole winner of the three. That these are three established actors whose careers already span decades suggests a calcified notion of nonwhite stars the "people" — nominations are determined by Gallup polls, online voting and more recently "internet video metrics" — consider worthy of inclusion. Those numbers pale even in comparison to the Oscars.
Slightly more progressive still are the MTV Movie Awards. Their best male/female performer categories have nominated 63 actors in the past 10 years, 11 of whom are actors of color. Smith (noticing a trend?) is the only one to have triumphed in his category, back in 2008 for I Am Legend. To emphasize the idea that things really have gotten worse: Only three of those nominees came in the past five years. In fact, 2011, 2012 and 2015 were #MTVMovieAwardsSoWhite, with these bigger categories full of exclusively white faces.
What sets these two awards apart from the Oscars — on top of their membership makeup and target demo — are their ancillary categories. These side races allow for a bigger pool of acting nominations than the usual four (actor, actress, supporting actor, supporting actress) at the Oscars. So while the major categories are quite barren in terms of nonwhite performers, both awards more than make up for it in their extra categories.
The People's Choice Awards, with their best action and best comedic categories, have been able to avoid an all-white nominee roster. In the past, they've singled out Samuel L. Jackson, Jet Li, Jackie Chan, Michelle Rodriguez, Wanda Sykes, Chris Rock and even this year's MTV Movie Awards comedy genius/People's Choice favorite comedic actor Kevin Hart. That the Ride Along star was the first nonwhite winner in the category's history shows us there are still plenty of "firsts" to be broken, even in more populist and popular awards shows.
MTV's breakthrough/breakout performance category in particular has proven to be a great place to celebrate diversity — though only up to a point. Performers as varied as Quvenzhané Wallis (Beasts of the Southern Wild), David Oyelowo (Selma), Taraji P. Henson (Hustle and Flow), Quinton Aaron (The Blind Side), Dev Patel (Slumdog Millionaire) and Jay Chou (The Green Hornet) have earned nominations. Yet its winners list is filled with young white performers that have then in turn been embraced by the industry at large: Anna Kendrick, Rebel Wilson, Chloe Grace Moretz and Shailene Woodley.
Then again, the MTV Movie Awards serve as an example of the ways other awards shows have attempted to rectify their own racial biases. In fact, as if to prove the Jersey Shore network was paying attention to its changing demographic, they instituted a best Latino actor award in 2011, a category that both celebrated the explosion of Latino talent in this new decade while simultaneously ghettoizing it. 
Indeed, their nomination in this category was the only place where films like From Prada to Nada, Machete, La Mission, The Back-up Plan, The Losers and Unstoppable scored that year. That may be why, after just three years — and after awarding non-Latino actor Javier Bardem in 2013 and refusing to televise the award altogether — MTV decided to retire the category.
Despite not priding themselves on honoring quality in the way the Oscars do, these two more popular and mainstream awards paint what may be an even clearer picture of how big-studio tentpoles and their casting choices produce the monochrome palette that characterizes this year's Oscar nominees. The People's Choice and the MTV Movie Awards have been dominated this past decade by The Hunger Games, Harry Potter, Marvel's various tentpoles and the Twilight films — all of which center on a vision of the world at large that finds room for nonwhite performers almost exclusively in supporting roles.
The #OscarsSoWhite controversy is a turning point for the academy and the industry at large. It's a chance to examine what, as Oscar winner Lupita Nyong'o put it, the "unconscious prejudice" that dictates "what merits prestige in our culture." Whether it's a viewer-voted show or the most vaunted awards show in the country, representation matters.