Listen to Wiz Khalifa Turn Adele's "Hello" Into a Hilarious Weed Anthem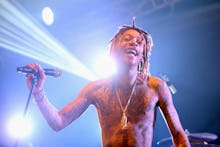 Wiz Khalifa is to music what a cigarette rolling machine is to weed smokers. Fill his ears with a beat, hand him a mic and with a few flicks of the wrist, watch it all turn into a pristine weed anthem.
While making the rounds to promote his upcoming album Khalifa, Wiz Khalifa stopped by Power 106 in Los Angeles and offered undeniable proof that he can turn any instrumental into a pristine ode to marijuana. Presented with the instrumental to Adele's record-breaking "Hello," he immediately freestyled a 420-friendly alternative. 
He calls it "Hella Os."
Adele's "Hello from the other side" becomes Khalifa's "Roll one up and let's get high."
"I must have called a thousand times" flips to the enunciated "I am trying to get fried."
The already immortal melody combined with Khalifa's straightforward lyrics offers the perfect recipe for an instant stoner classic, one more for Khalifa's ever-growing discography. He dropped another one Thursday, "Bake Sale," featuring kindred spirit Travis Scott.
"It's like us being young and having the same energy and some of the same inspirations," he told Billboard of the song. Chief among those, of course, is that good, good green.
Listen to "Bake Sale" below. Khalifa drops Feb. 5.
Source: Soundcloud