SAG Awards 2016 Date, Start Time, Nominees, Presenters and More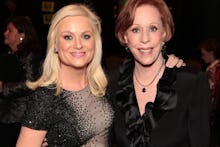 NBC/Getty Images
The 22nd annual Screen Actors Guild Awards take place on Saturday, Jan. 30 at 8 p.m. Eastern; those who subscribe to TNT and TBS can watch the live broadcast on TV, either channel's website, or on the networks' mobile apps. Red carpet coverage starts at 6 p.m. Eastern on the same platforms. The event is co-hosted by People and the Entertainment Industry Foundation, and celebrates the work of individual actors and ensemble casts. 
Each year, SAG also honors one performer with its lifetime achievement award. At the 2016 ceremony, Tina Fey and Amy Poehler will present the 52nd award to comedian Carol Burnett. "We all hail Carol as the queen for a lot of reasons," Poehler has said, according to Entertainment Weekly. "One is because we grew up watching her, and we will always have those memories of discovering comedy with her and through her. And the other is that she's so versatile."
Read more:
Poehler and Fey won't be the only stars handing out awards on Saturday. Other SAG presenters include Jacob Tremblay, Eddie Redmayne (2015's best actor winner for his role in The Theory of Everything), Julianne Moore, Priyanka Chopra, Brie Larson, Eva Longoria and Sarah Silverman. 
Nominations for the SAG Awards were announced on Dec. 9. Voting instructions were then mailed to the more than 100,000 members of SAG-AFTRA, who have until Jan. 29 to cast their ballots for standout performances in film and television categories. Below are the 2016 nominees.
Film
Outstanding Performance by a Cast in a Motion Picture
· Beasts of No Nation
· The Big Short
· Spotlight
· Trumbo
Outstanding Performance by a Male Actor in a Leading Role
· Bryan Cranston (Trumbo)
· Johnny Depp (Black Mass)
· Leonardo DiCaprio (The Revenant) 
· Michael Fassbender (Steve Jobs)
· Eddie Redmayne (The Danish Girl)
Outstanding Performance by a Female Actor in a Leading Role
· Cate Blanchett (Carol)
· Brie Larson (Room)
· Helen Mirren (Woman in Gold)
· Saoirse Ronan (Brooklyn) 
· Sarah Silverman (I Smile Back)
Outstanding Performance by a Male Actor in a Supporting Role
· Christian Bale (The Big Short)
· Idris Elba (Beasts of No Nation)
· Mark Rylance (Bridge of Spies)
· Michael Shannon (99 Homes)
· Jacob Tremblay (Room)
Outstanding Performance by a Female Actor in a Supporting Role
· Rooney Mara (Carol)
· Rachel McAdams (Spotlight)
· Helen Mirren (Trumbo)
· Alicia Vikander (The Danish Girl)
· Kate Winslet (Steve Jobs)
Television
Outstanding Performance by an Ensemble in a Drama Series
· Downton Abbey
· Game of Thrones
· Homeland
· House of Cards
· Mad Men
Outstanding Performance by an Ensemble in a Comedy Series
· The Big Bang Theory
· Key & Peele
· Modern Family
· Orange Is the New Black
· Transparent
· Veep
Outstanding Performance by a Male Actor in a Drama Series
· Peter Dinklage (Game of Thrones)
· Jon Hamm (Mad Men)
· Rami Malek (Mr. Robot)
· Bob Odenkirk (Better Call Saul)
· Kevin Spacey (House of Cards)
Outstanding Performance by a Female Actor in a Drama Series
· Clare Danes (Homeland)
· Viola Davis (How to Get Away With Murder)
· Julianna Margulies (The Good Wife)
· Maggie Smith (Downton Abbey)
· Robin Wright (House of Cards)
Outstanding Performance by a Male Actor in a Comedy Series 
· Ty Burrell (Modern Family)
· Louis C.K. (Louie)
· William H. Macy (Shameless)
· Jim Parsons (The Big Bang Theory)
· Jeffrey Tambor (Transparent)
Outstanding Performance by a Female Actor in a Comedy Series
· Uzo Aduba (Orange Is the New Black)
· Edie Falco (Nurse Jackie)
· Ellie Kemper (Unbreakable Kimmy Schmidt)
· Julia Louis-Dreyfus (Veep)
· Amy Poehler (Parks and Recreation)
Outstanding Performance by a Male Actor in a Television Movie or Miniseries
· Idris Elba (Luther)
· Ben Kingsley (Tut)
· Ray Liotta (Texas Rising)
· Bill Murray (A Very Murray Christmas)
· Mark Rylance (Wolf Hall)
Outstanding Performance by a Female Actor in a Television Movie or Miniseries
· Nicole Kidman (Grace of Monaco)
· Queen Latifah (Bessie)
· Christina Ricci (The Lizzie Bordan Chronicles)
· Susan Sarandon (The Secret Life of Marilyn Monroe)
· Kristen Wiig (The Spoils Before Dying)
Stunts
Outstanding Action Performance by a Stunt Ensemble in a Motion Picture
· Everest
· Furious 7
· Jurassic World
· Mad Max: Fury Road
· Mission: Impossible — Rogue Nation
Outstanding Performance by a Stunt Ensemble in a Comedy or Drama Series
· The Blacklist
· Game of Thrones
· Homeland
· Marvel's Daredevil
· The Walking Dead