Is Another Winter Storm Coming to the East Coast?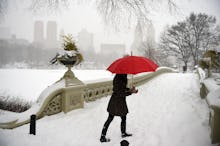 Astrid Riecken/Getty Images
During the weekend, Winter Storm Jonas brought a historic amount of snowfall to parts of the East Coast, disrupting transport systems, causing government closures and sparking a fair amount of both anxiety and winter revelry. As snow removal efforts continue to plow through major metropolitan cities like Washington, D.C., New York City, Philadelphia and Boston, reports of more snow barreling toward the Eastern seaboard began to surface Monday. Yet according to Tuesday reports from AccuWeather, the East Coast could skirt the chance of more snowfall. The Midwest, however, won't be so lucky.
"The Northeast will dodge a major snowstorm this week but lake-effect snow will fall downwind of the Great Lakes," reads a Tuesday tweet from the weather service.
Read more:
Previously, AccuWeather reported on possible rain, thunderstorms and snow heading for the Eastern-most states. 
And according to a statement from the National Weather Service, New Mexico and Florida were more likely to see inclement weather in the near-term than was the East Coast.
"Accumulating snow will bring slippery travel conditions over eastern New Mexico into Tuesday evening," read the NWS statement. "A second area of wintry weather is expected over portions of the Great Lakes. Further south and east, a vigorous low pressure system is forecast to bring the threat for heavy rainfall and strong to severe thunderstorms over Florida on Wednesday."
It's not altogether surprising that East Coast residents would be wary of more snowfall. As of Tuesday, Winter Storm Jonas had caused the death of at least 48 people, according to the Weather Channel. USA Today reported that the storm system caused at least 10,000 flight cancellations to date, and that the total of grounded planes could continue to grow.