San Diego Schools on Lockdown Updates: Here's the Latest After Shots Fired at Naval Center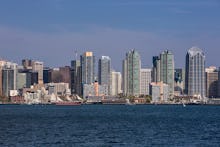 George Rose/Getty Images
Several schools in the San Diego region were reported to be on lockdown Tuesday, after reports of a possible active shooter at the city's Navy hospital. The lockdown was lifted shortly thereafter, according to the San Diego Unified school district, however students and staff were remaining indoors as a safety precaution. 
The Naval Medical Center of San Diego announced the development in a post to Facebook which reads, "An active shooter has just been reported in building #26 at Naval Medical Center San Diego. All occupants are advised to run, hide or fight. All non-emergency response personnel are asked to stay away from the compound."
Following the reports, three schools were on lock down "as a precaution," according to the San Diego Unified school system. Roosevelt Middle school, San Diego High School and Garfield High School were all on lockdown. "Students, staff are safe," reads a tweet from the school district. 
At 12:30 p.m. Eastern, a second tweet from the district announced that the lock down had been lifted, however students and staff were staying indoors to take shelter from potential danger. 
Details of the alleged shooting were not immediately clear, however speaking to the Associated Press, a representative for the Navy said the report that three gunshots were heard on the base's medical center came from just one witness. And according to the AP, Mike Alvarez, the Medical Center's spokesman, refused to confirm an active shooter on the San Diego Naval base. According to NBC San Diego, there were no reported injuries. 
According to the New York Daily News, an investigation into the incident yielded no evidence of a shooting. 
Jan 26, 2015, 3:48 p.m. Eastern: This story has been updated.