Carly Fiorina HP: A Look Inside Her Time as CEO of Hewlett-Packard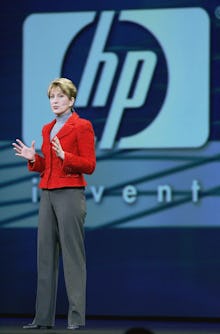 Justin Sullivan/Getty Images
Among the plethora of GOP candidates still bidding for the Republican nomination, three stand out as nominees without a heavy political background. The first, of course, being real estate mogul Donald Trump, who is also the Republican frontrunner. There's also retired neurosurgeon Ben Carson, who has received national accolades for his work in the medical field. Then, there's Carly Fiorina. 
In the vein of Trump, Fiorina highlights her business background as a distinguishable trait for her run as commander in chief, as she was the CEO of Hewlett-Packard for six years, a position she wears as a badge of honor. However, her tenure at HP was controversial, to say the least, which has often raised eyebrows among some voters, political pundits and business publications.
Read more: 
Fiorina's beginnings at HP: When Fiorina joined HP as its CEO in 1999, it was considered a noteworthy and progressive hire, as she was the first woman to head a Fortune 20 company. From the offset, she began to restructure the company, and with it, laid off "thousands of workers," according to Time. Her biggest ambition for HP, though, was to turn it into a direct competitor to IBM. At the time, HP was best known for making printers. 
To accomplish this, Fiorina set out to acquire other tech companies to bolster HP's product. In 2002, the company bought Compaq Computer for $25 billion. Getting there, however, meant undermining HP's most noteworthy board member, Walter Hewlett — the son of the company's co-founder — who opposed the deal, according to Time. In the end, it came down to the wire, with 51% of shareholders supporting Fiorina. "Outside observers and some big shareholders [said] that it would dilute the company's core, profitable printer business," Dan Mitchell wrote for Time. "It did much more than that, with HP's results sinking every quarter."
Fiorina's downward spiral: After the acquisition, she told board members that the profits would increase from 4.5% in 2001 to 8.6% in 2003, according to the Wall Street Journal. The reality, however, was a 6.2% increase in 2003, before a 0.1% increase the following year. It also didn't help company morale when she laid off 30,000 workers after the Compaq acquisition (while she did technically double employment after Compaq, that accounted for all of its present employees at the time). 
"Carly is a brilliant sales person, and she did an exquisitely good job of selling the Compaq merger to a cynical market," George Keyworth, a former HP board member said, in an interview with the Journal. "But what she could not do was execute." The disappointing results, and an inability to keep her promises with profit margins, put Fiorina on thin ice at the company. Even compared to her competitors, some of which were struggling as well, HP's failures were particularly noteworthy. 
"Here are the facts: In the five years that Fiorina was at Hewlett-Packard, the company lost over half its value," Jeffrey Sonnenfeld, senior associate dean for Leadership Programs and professor in the Practice of Management at Yale University, wrote for Politico. "It's true that many tech companies had trouble during this period of the internet bubble collapse, some falling in value as much as 27%. But HP under Fiorina fell [45%]. During those years, stocks in companies like Apple and Dell rose. Google went public, and Facebook was launched. The S&P 500 yardstick on major U.S. firms showed only a 7% drop. Plenty good was happening in U.S. industry and in technology."
By 2005, the company's board had enough, and ousted Fiorina as HP's CEO, but not before giving her a $40-million settlement — though $19 million of it was through separate stock and pension benefits. In response to criticisms of her tenure at CEO, Fiorina states that the company doubled its revenue and increased the numbers of patents threefold, according to Fortune. Conversely, HP also struggled to dominate in any technology sector aside from its niche: printers. "HP was already the overwhelming leader in printers when she arrived, and by the time she left, the company still didn't dominate any other business," Geoff Colvin wrote for Fortune. 
Whether HP's struggles could be pinned on Fiorina — especially at a time of crisis for the entire industry — her time as its leader has been a staple of her campaign, as she credits her business acumen as a primary indicator of how she'd be able to lead a country. 
Correction: Jan. 26, 2016