Maine Gov. Paul LePage Wants to "Bring the Guillotine Back" for Drug Traffickers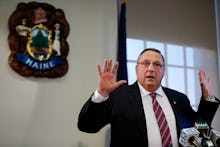 Maine Gov. Paul LePage has a penchant for inflammatory rhetoric and controversial policy proposals, and the Republican lived up to that reputation yet again on Tuesday, telling a local radio station he favored public beheadings of drug traffickers in response to his state's heroin epidemic.
"I think the death penalty should be appropriate for people who kill Mainers," LePage told WVOM, Politico reported. "We should give them an injection of the stuff they sell."
He added, "What we ought to do is bring the guillotine back. We could have public executions and we could even have which hole it falls in."
LePage's remarks came mere weeks after he made national headlines for racially charged comments about his state's drug problem.
"These are guys with the name D-Money, Smoothie, Shifty, these types of guys, they come from Connecticut and New York, they come up here, they sell their heroin, they go back home," LePage said at a town hall meeting in early January. "Incidentally, half the time they impregnate a young, white girl before they leave, which is a real sad thing because then we have another issue we have to deal with down the road."
LePage later recanted his remarks, explaining he had been "going impromptu and my brain didn't catch up to my mouth."
Old habits, it seems, die hard.
LePage is a prominent supporter of New Jersey Gov. and GOP presidential hopeful Chris Christie, who is looking to make a splash in the Feb. 9 primary in New Hampshire, another state ravaged by the spreading heroin epidemic. A spokeswoman for the Christie campaign did not immediately respond to Mic's request for comment on LePage's proposal.