3 Movies Coming to Netflix Streaming That Were Purchased at Sundance 2016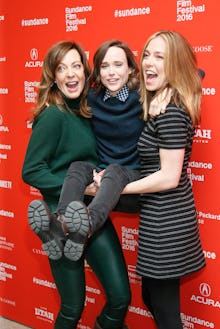 Danny Moloshok/AP
To Netflix addicts worried if you'll be able to stream the hottest films at Sundance 2016, worry not — Netflix has your back. The streaming giant has already coughed up big bucks to buy three of this year's most sought-after Sundance films starring actors like Ellen Page, Paul Rudd and Selena Gomez and intends on purchasing several more before the festival ends on Feb. 1, the New York Times reported.
Netflix is one of the top buyers at Sundance this year, over traditional film studios like Fox and Universal Pictures, according to the Times. Here are the films Netflix already purchased at Sundance that streamers can expect to hit the popular content platform sometime in the near future:
Read more:
Tallulah: Netflix spent $5 million on Tallulah, a comedy-drama starring Juno actresses Ellen Page and Allison Janney and directed by Orange is the New Black writer Sian Heder. Page plays a free-spirited young woman whose boyfriend goes missing after she rejects his proposal to move back to his hometown and start a family. Janney plays the boyfriend's mother, who develops a conditional relationship after a series of events that unfold following the boyfriend's disappearance. 
"Page is simply superb in a complex role that perfectly plays to her gift for balancing deadpan comedy with surprisingly deep emotional reserves," Variety's Geoff Berkshire wrote in his review. "Janney nails the physical comedy and pathos of a woman looking to make a connection."
The Fundamentals of Caring: Netflix spent $7 million for the rights on this comedy-drama based on the 2012 book of the same name. The unusual team of Paul Rudd and Craig Roberts star as a father-son duo Ben Benjamin and Trevor, respectively. When Ben takes 18-year old Trevor, who suffers from muscular dystrophy, on a road trip to show him his favorite landmarks, they meet a runaway played by Selena Gomez (yes, the singer) who evolves into Trevor's love interest. 
Berkshire noted some of the film's hits and misses in his review. "Burnett carefully plays the surrogate father-son bonding at the story's core with smart-alecky sarcasm to minimize its obvious sentimentality," he wrote. "...but comes up short when each character experiences a requisite emotional catharsis."
Whether or not the film is critically-acclaimed, the chance to watch Gomez act alongside Rudd and Roberts will no doubt be worth a stream.
Under the Shadow: Contrasting with Netflix's other two film purchases thus far, Under the Shadow is a horror film set in Iran. The horror unfolds in a haunted apartment in Tehran at the tail end of the 1980-88 Iran-Iraq war. 
It's the debut for Iranian director Babak Anvari that Variety's chief film critic Justin Change praised him for. "Anvari's resourceful writing-directing debut grounds its premise in something at once vaguely political and ineluctably sinister," he wrote in his review," adding that it's not necessary to know much about the war to follow and understand the film, which "quickly outlines the sense of panic and terror that has gripped the population of Tehran as sirens and explosions rattle the city."