A New Campaign, #WomenNotObjects, Is Calling Out the Ads That Objectify Women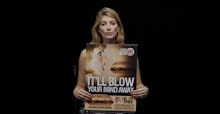 This is an ad for jeans.
This is an ad for perfume.
Here's an ad for shoes:
And these are all ads selling things to women.
See what they all have in common? The clearest and most undying trend in advertising is the treatment of women as objects. But a new campaign is making the case to end that norm.
It's called #WomenNotObjects, and a video that's been gaining steam on YouTube for the past two weeks, called "We Are #WomenNotObjects," makes the impact of such advertising clear. 
The video shows real women articulating the real messages that ads, many of which are for fashion campaigns, send to female viewers. For Burger King, it's "I love giving blowjobs to sandwiches." For a Skyy Vodka ad, it's, "I love sacrificing my dignity for a drink" — and it only gets more disturbing from there.
Ad after ad shows women in lifeless poses or with just their bodies or breasts exposed to sell purses and high-fashion skirts. These ads all have one thing in common — using women for their bodies, and little else. In one ad, the woman is literally a sexy puppet.
In reference to a Tom Ford perfume ad one woman says, "The key to my heart? A man that smells like a vagina."
The woman behind the campaign is Madonna Badger, a New York ad executive who tragically made headlines in 2011 when her three daughters and parents were killed in a house fire. According to the Wall Street Journal, Badger started this new initiative with her firm, Badger and Winters Group, to honor her late children and shine a light on how this sort of sexist advertising can affect young women's self-esteem and sense of worth.
Badger also announced that, as part of the campaign, her firm has made a pledge to not create ads that use women as props or objectify them. The firm, which works with brands like Avon, Vera Wang, Diane von Furstenberg and Nordstrom, has also promised to not overly airbrush or augment the images of female models.
That's an intriguing step for Badger, who is responsible for those highly suggestive Calvin Klein ads from the '90s starring Mark Wahlberg and Kate Moss. To address how she may have contributed to this culture of objectifying women in advertisements, Badger told WSJ, "If I said I never did it, I would be a liar." 
But with the #WomenNotObjects initiative, Badger joins a growing number of companies trying to right their wrongs and put out images that empower women. In 2014, Procter & Gamble famously launched its "Like A Girl" ads, which targets the stereotypes young girls face. That same year, Under Armor hired ballerina Misty Copeland to represent its activewear.
Yet the struggle is far from over. As recently as December 2015, a campaign for men's jewelry used women's bodies as literal props — exactly the kind of thing Badger's campaign is fighting against. With the Super Bowl, a haven for sexist advertising, mere weeks away, we'll see if the latest push for change actually changes anything at all. 
You can watch the entire #WomenNotObjects video below: