Kanye West Will Livestream 'Swish' From Madison Square Garden Feb. 11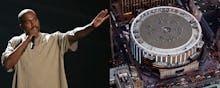 Mic/AP
Kanye West is confident his album release will be a slam dunk — which explains why he chose Madison Square Garden as Swish's official release venue. The rapper and producer is readying to drop "the best album of all time" during an event at the New York City stadium on Feb. 11 that will simultaneously be streamed live in select global theaters, according to Pitchfork. 
Yeezy has been rather active on Twitter recently, promoting new music weekly during the unofficial comeback of #GoodMusicFridays. On Monday, West revealed the official track list for his forthcoming album, complete with a signature from Kylie Jenner, in a photo posted to Twitter. 
Vibe reported Tuesday that West will not only release the album in its entirety at Madison Square Garden on Feb. 11 but also perform the album from start to finish. West is calling the event "Yeezy Season 3" and is expected to reveal designs from the third edition of his fashion house, according to Vibe.
Read more:
Though it's unclear which theaters will stream the event, Cineworld seems to have inside knowledge of the upcoming release. "[Swish is] getting a suitably spectacular unveiling in its entirety at Madison Square Garden with a performance by his visual art collaborator Vanessa Beecroft," the publication reported.
West unveiled the second edition of the Yeezy fashion line during 2015's New York Fashion Week in a similar manner, streaming the event in a number of select theaters across the globe.