Volvo Is Trying to Make "Death-Proof" Cars — Here's How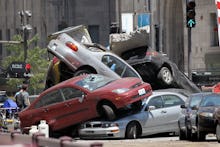 Volvo has promised to make its cars and SUVs "death-proof" by 2020. It's a much-needed solution to the tens of thousands of car accident-related fatalities in the U.S. every year.
Here's the technology the automaker will employ to get there.
Avoidance and smart brakes 
Using a camera and radar, the next generation of vehicles will be able to detect moving pedestrians, parked cars and cyclists. A camera is fitted into the back of the car's rearview mirror and a radar is planted inside its grill. The radar determines moving objects and a car's proximity to them, while the camera identifies what the objects are. When a biker or other moving person unexpectedly swerves in front of the car, it's programmed to automatically apply the breaks.
Volvo's newest car, the 2016 S90, also includes large-animal detection and auto-braking. 
Crash safety features
In the event that a death-proof Volvo does get into an accident, the company has put in place a series of safeguards, including airbags that deploy outside the vehicle for pedestrians. These, of course, won't necessarily prevent a moving Volvo from demolishing a person's body, but it could perhaps save their brain.
The company has built other safety tools for when the vehicle veers off the road, including a bumper that can soften the blow when a car crashes into a wall.
Driving assistance
In order to keep drivers safe from their own bad driving decisions, Volvo has implemented a set of tools that will prevent a car from getting too close to the vehicle in front of it or drifting out of its lane. In manual mode, Volvo has technology that keeps the car in its lane at high speeds when it senses the driver is unintentionally shifting into another lane. And its newest car, the S90, is able to identify both the lane and edge of the roadway, helping the vehicle stay its course.
Collision avoidance
Volvo has an auto-braking system that engages when a person tries to make a right or left turn in front of oncoming traffic. It also turns on if the car senses it is about to collide with other vehicles on the road. 
What's in store for the future
With Volvo working to bring self-driving cars to customers in 2017, it's not surprising the company has been building up its share of semi-autonomous features. But Jim Nichols, head of communications for Volvo product and technology, told Mic that part of the reason for the rash of semi-autonomous vehicle feature rollouts is to prepare drivers for the future to come. 
"You cannot put fully autonomous cars right in consumer hands today; they wouldn't be ready for it," Nichols told Mic. 
In addition to readying drivers for the eventuality of cars that drive themselves, Nichols told Mic that the product rollout happens to line up nicely with the company's vision for no death or serious injury in 2020. "All of our technology goes toward that goal, and autonomous drive is one part of that goal."
Correction: Jan. 29, 2016