Are the Grammys Fan Voted? Here's How Grammy Winners Are Actually Chosen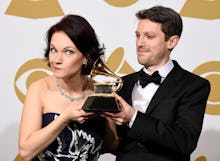 Chris Pizzello/AP
The Grammy Awards, an event that calls itself "music's biggest night," will air on Feb. 15 and crown a new crop of Grammy winners with awards that include best new artist and best music video. But how do the Grammy winners actually get chosen? Here's who really holds the keys to Grammy victory.
Read more:
According to the Grammys official website, the mysterious people who decide the winners and losers each year are dues-paying members of arts organization the Recording Academy.
To qualify to vote, members must have "creative or technical credits on at least six commercially released tracks (or their equivalent)" — meaning that members can include everyone from lead vocalists to famous violinists to engineers.
The process of selecting winners begins with submissions from Recording Academy members. Once the submissions are organized into categories, first-round ballots go out to the voters.
"To help ensure the quality of the voting, members are directed to vote only in their areas of expertise; they may vote in up to 20 categories in the genre fields plus the four categories of the general field (record of the year, album of the year, song of the year and best new artist)," explains the official Grammys website.
After the field is narrowed down, a final round ballot goes out to voters. Votes are tallied by market consulting firm Deloitte and kept secret until the names of winners are read aloud at the awards show.
The nature of the Grammy process has garnered criticism from those who have pointed out that voters may be voting for categories in which they have no particular expertise, and some have suggested that the awards don't mean much anyways. 
Despite the criticism, however, the awards show still draws guests and performers who represent some of the biggest names in the business, not to mention millions of viewers each year.