7 Black Films Coming Out of Sundance We Can't Wait For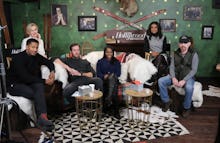 John Parra/Getty Images
With the 2016 Sundance Film Festival in full swing in Park City, Utah, until Jan. 31, the indie film festival made waves in the movie world with Amazon and Netflix landing massive deals. Most notably, Fox Searchlight picked up the rights to Nate Parker's slave rebellion drama The Birth of a Nation for $17.5 million. 
"I made this film for one reason, with the hope of creating change agents," Parker, who played 19th century slave revolt leader Nat Turner, said, according to the Hollywood Reporter. "That people can watch this film and be affected. That you can watch this film and see that there were systems that were in place that were corrupt and corrupted people and the legacy of that still lives with us."
For more than 30 years, the Sundance Film Festival has produced riveting independent documentaries, comedies, dramas and more. In the past few years, the film festival has produced highly acclaimed black films such as Ryan Coogler's Fruitvale Station, Ava DuVernay's Middle of Nowhere and Andrew Dosunmu's Mother of George.
With the noted lack of diversity among this year's Oscars nominees, Mic takes a look at several films at Sundance that focus on black issues. 
Read more:
Southside With You
One of the festival's highly anticipated films, Southside With You, is a romantic film that details how a young Barack Obama and his future wife, then Michelle Robinson, met in Chicago during the late '80s. The film stars Tika Sumpter as the young lawyer in Chicago and future first lady, while Parker Sawyers plays the future president of the United States. 
Directed by Richard Tanne, the Sundance Institute writes "Southside With You takes plenty of poetic license to craft this charming, playful story out of true-life events, yet actors Tika Sumpter and Parker Sawyers embody the essence of two people matched in power, idealism and intellect."
The film, produced by singer John Legend, combines "the soft summer light of Chicago with a hard-hitting assessment of the issues that the Obama presidency would face, even when Barack was just a chain-smoking hotshot lawyer with a clapped out car," Emma Jones writes in the Independent.
The Birth of a Nation
Parker's The Birth of a Nation is one of the biggest successes of Sundance 2016 so far. Parker stars as revolutionary Nat Turner, who led a successful slave rebellion in Virginia in 1831. Being Mary Jane star Gabrielle Union plays Turner's wife and The Help's Aunjanue Ellis plays Turner's mother.
 "Without an honest confrontation, there is no healing," Parker said at the Sundance Film Festival, according to Deadline. "These people thought they were doing good when they were doing bad. In 2016, that echoes."
How to Tell You're a Douchebag
The romantic comedy How to Tell You're a Douchebag centers on black millennial Ray Livingston, played by Charles Brice, and his blog "Occasionally Dating Black Women." Playing alongside Brice is DeWanda Wise, who appears in the film as the up-and-coming journalist Rochelle Marseille. 
"How to Tell You're A Douchebag is a fresh, buoyant, super-sexy comedy delivered with a twist for a generation addicted to their screens and digital accounts," the Sundance website reads. The film, written and directed by Tahir Jetter, created the "blog that became a movie." 
Michael Jackson's Journey From Motown to Off the Wall
Academy Award winning film director Spike Lee will be showing his newest documentary Michael Jackson's Journey From Motown to Off the Wall at the Sundance Film Festival. 
The documentary, which will premiere on Showtime Feb. 5, consists of interviews with people who knew and admired Jackson, footage from Jackson's career and more. According to the Root, the film will include interviews with Jackson's parents Katherine and Joe Jackson, film and television director Lee Daniels, the Weeknd and Pharrell Williams. 
"An in-depth look at a chapter of his career that is rarely examined, Michael Jackson's Journey from Motown to Off the Wall allows audiences to travel with Michael as he gets his start at Motown, strikes a new path with CBS records and forges a relationship with legendary producer Quincy Jones," Sundance stated in the film description on its website.
Miles Ahead
After waiting 10 years, the film Miles Ahead finally came to the big screen at the Sundance Film Festival, according to USA Today. The biopic follows the life of Miles Davis, legendary jazz trumpeter who is regarded as one of the most influential musicians of the 20th century. 
"[The script] went through many iterations," Academy Award nominated actor Don Cheadle, who directed and starred in the film, told USA Today. "We rebooted it ... and that was another five, six years before we were able to find financing. And then lose it. And then cobble it together again." The actor also raised funds for the biopic on crowdsourcing website Indiegogo. 
Cheadle told USA Today that he began learning how to play the trumpet four years ago to bring the late jazz legend's story to life on the big screen. "The trumpet is one of the meanest and hardest instruments that there is," Cheadle said. "The learning curve is very steep. I still practice every day."
Sleight
The urban drama Sleight stars Jacob Latimore as Bo, a South Los Angeles high school student who must take care of his sister after the sudden death of his mother. Bo decides to become a street magician to help pay the bills, but he later becomes a peddler for a local drug dealer, using his sleight of hand tricks to avoid trouble. 
Sleight is the debut film for director J.D. Dillard, who recalled trying to find ways to make his idea appear on the big screen. "We wanted to make a movie that sat somewhere in that world and kind of found a lot of these natural crossovers with crime," Dillard told Hollywood Life. "We wanted to find a way to make magic look cool and not so stage-y."
The Sundance review reads: "Sleight is a smart and refreshing film that delivers a thrilling and irresistible mix of romance, urban drama, and magical super-heroism. Glistening with warmth, charm and indelible performances by a fresh young cast, J.D. Dillard's debut feature is a shining example of inventive indie filmmaking at its best."
Trapped
Director Dawn Porter, who debuted at Sundance in 2013 with the documentary Gideon's Army, has created a new film that focuses on access to abortion providers in America. Porter raised the funds for her newest project Trapped on the crowdsourcing site Kickstarter.
"Trapped is a new documentary I'm creating that follows the progress of Southern reproductive health clinics as they struggle to provide care in the face of an increasingly hostile legal and political climate," Porter said on her Kickstarter page. "I take viewers to the front lines of the war on reproductive rights and show the human effects of these politically motivated and medically unnecessary laws. I examine the legal challenges, but also the personal stories of the clinics and their patients."
Named after the Targeted Regulations of Abortion Providers, or TRAP laws, Trapped focuses on the personal stories of a physician who travels across the country to help ensure medical services, the staffers that work at various clinics, lawyers who seek to eliminate the TRAP laws, and women who are directly affected by anti-abortion legislation. 
Other films with black leads, a black director or a focus on black culture are: As You Are, Kiki, Life, Animated, Maya Angelou And Still I Rise, Morris From America,  Mr. Pig, The Fits, The Land and United Shades of America.