'The Birth of a Nation' Is the Sundance Movie Everyone's Talking About — For Good Reason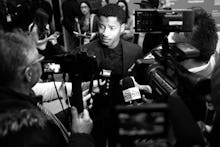 Nicholas Hunt/Getty Images
The Birth of a Nation is the big-ticket item at 2016's Sundance Film Festival, and that's excellent news. According to Variety, Fox Searchlight won worldwide rights to the slave-revolt drama at auction, closing a $17.5 million deal that knocked out Paramount, Sony, the Weinstein Company and Netflix (which reportedly offered $20 million). This is the steepest sale Sundance has ever seen.
The price tag tracks with the tremendous buzz that The Birth of a Nation generated immediately after its festival debut on Monday. It received a "thunderous" standing ovation, according to Bilge Ebiri of Vulture, "a testament to the enormous power of this film."
Read more:
And certainly, the subject matter here holds enormously powerful potential. The drama tells the story of Nat Turner, a slave-turned-preacher, who, in 1831, led a bloody revolt that sent shockwaves through the South. Borrowing its title from a 1915 film by D.W. Griffith — which chronicles the rise of the Klu Klux Klan and has been called "the most racist movie ever made" — 2016's Birth of a Nation depicts the unvarnished reality of slavery without shying away from images that might offend a white audience. 
"This powerfully confrontational account ... seeks to purify and reclaim a motion-picture medium that has only just begun to treat America's 'peculiar institution' with anything like the honesty it deserves," in the words of Variety reviewer Justin Chang. 
The Birth of a Nation comes at a moment when Hollywood is again under fire for the tacit racism it's perpetuated in failing to recognize actors and filmmakers of color, at the 2016 Oscars and in general. It comes at a moment when honesty is not just deserved, but critical to reforming the patterns condemned by proponents of the #OscarsSoWhite movement: The dearth of diversity in movie narratives and the absence of quality roles for nonwhite actors are two of the very problems Parker made his film to correct. 
In a recent interview with the Hollywood Reporter, Parker said his determination to make The Birth of a Nation came from his disappointment in both a lack of respectable roles for black actors and a lack of African-American heroes in history textbooks. He wanted to expand the conversation.
"Resistance lives in the air in this current moment," Parker told the Reporter. "Anyone who sees this film should leave the theater and feel compelled to be a change factor with respect to relations that are taking place in this country. But also, they should be proud to be an American. This country was built on rebellion."
And now his rebellion stands a real chance of making it to the 2017 awards show circuit.