Rostam Batmanglij Is Quitting Vampire Weekend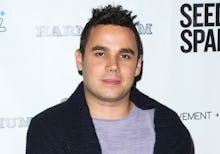 Paul Archuleta/Getty Images
Vampire Weekend guitarist, keyboardist and producer Rostam Batmanglij has stepped away from the New York City-bred rock group. Batmanglij, who is also talented solo musician, announced the departure in a post to Twitter. "I wanted to let [people know] I'm no longer a member of VW but that Ezra and I will continue to collaborate on future projects [and] future VW songs," Batmanglij wrote. 
"I can't even begin to express the joy I get from writing songs, both my own [and] with others, I hold it all sacred," he added in the statement. "There is so much amazing music — all of it dear to me — on its way to you. It's an exciting time. And I feel lucky to share it with you."
Read more:
Reacting to the news on Twitter, fans were saddened by the development but were largely supportive of Batmanglij's decision. 
Vampire weekend form in 2006 in New York City, and the remaining band members include Ezra Koenig, Chris Baio and Chris Tomson. The musicians met and began collaborating as students at Columbia University. Over the years, the heavyweight indie rock band has steadily churned out content, beginning with 2007's Vampire Weekend EP. After signing to XL Recordings, Vampire weekend released three studio albums — 2008's self titled LP, 2010's Contra and 2013's Modern Vampires of the City. 
Yet all throughout his stint with Vampire Weekend, Batmanglij has been quietly building up his cannon of solo material and piling on big-name collaborations through his production work. According to his Twitter bio, the Iranian-American singer and producer as worked with musical artists such as Carly Rae Jepsen, Charli XCX, Hamilton Leithauser and Santigold.
Two of Batmanglij's solo endeavors are worth mentioning. The first is a band called Discovery, that features just Batmanglij and which the artist began in 2005. In 2009, Batmanglij released Discovery's one and only LP via XL Recordings, an electronica-hued rock album that featured, "Swing Tree," "Osaka Loop Line" and a re-imagining of "I Want You Back," among other sterling tracks. 
In the longer-term, Batmanglij has also released music under the moniker Rostam. Most recently, the artist shared the video to a single titled "EOS." The video was published on YouTube on Jan. 14. 
Yet some of Batmanglij's lesser-known, and perhaps therefore under-appreciated, solo material came in the form of two singles released in 2011 — "Wood" and "Don't Let It Get To You." 
"The latest from Vampire Weekend/Discovery's Rostam Batmanglij sounds very Vampire Weekendy, if only his band's love of west African pop had been transplanted northeast toward Asia," wrote the Fader's Duncan Cooper after the track's release. "It's the most positive transition, a definite open-the-blinds type track... Super uplifting, and god willing a sound he'll explore more."
If "Wood" stands as any indication of what the artist is capable of when left to his own devices, then fans are in for more sonically inventive splendor ahead.
Source: Soundcloud
Jan. 26, 2016, 3:40 p.m. Eastern: This story has been updated.