This Is What Really Happens When Women Are Denied Abortions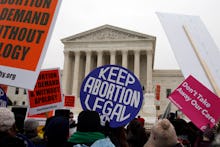 Few women, if any, really want to have an abortion. Instead, what they want is the best life possible for themselves and any children they may or may not have. The ever-increasing number of state-level abortion restrictions, known as Targeted Regulation of Abortion Providers laws, or TRAP laws, have reduced women's access to the procedure, but now it also seems such laws are preventing women from meeting their potential.
According to an analysis published this week in BMC Women's Health, denying women abortion care can have serious negative effects on their ability to achieve their goals. And, as shown by a longitudinal study of "turnaways," women who are denied access to abortion due to restrictive state laws, it can utterly dash their hopes and dreams. 
Ushma Upadhyay — a professor and public health social scientist at the University of California, San Francisco — wanted to see how women's goals, as well as the ability to accomplish them, changed in the face of disparate access to reproductive health care. 
After looking at 1,304 individual one-year plans from 757 women, Upadhyay and her team found that women who were able to terminate pregnancies weren't just more likely to achieve positive life plans, such as "I'm going to get a promotion," or "I will find a new apartment,"; they were also more likely to have those plans in the first place. The researchers concluded that while all of the women had some aspirational goals regardless of whether they had children, women who had abortions had more positive goals, proportionally. A higher percentage who were denied abortion access, however, had so-called "negative plans," or poor expectations for how their lives would change after having a baby.
"[Women] who were denied an abortion were less likely to have aspirational one-year plans than those who obtained an abortion," the authors wrote. "Those who were denied an abortion were more likely to have neutral or negative expectations for their future. Whether or not a person has aspirational plans is indicative of her hope for the future. Without such plans or hopes, she misses out on opportunities to achieve milestones in life."
In other words, women who need abortions but can't get them face negative repercussions that can last the rest of their lives.
Upadhyay's analysis is just one of the takeaways from Advancing New Standards in Reproductive Health, an initiative to evaluate the effects of unintended pregnancy on women's lives. ANSIRH has been conducting a long-term study on turnaways, and has already found they tend to suffer more than those afforded the ability to exercise their reproductive rights. 
According to earlier findings from the study, which included interviews from nearly 1,000 women who sought abortions across the U.S., 86% of the women who were turned away (182 total) kept their children. A year later, 67% were living in poverty, compared to 56% of the women who terminated their pregnancies. 
But that comparative lack of financial resources isn't the only thing that holds turnaways back, as Upadhyay's analysis makes clear. They're also limited by the loss of hope that comes with not being able to take control of their own lives. Anti-abortion laws aren't just regulating abortion providers; they're regulating women's lifelong potential. 
h/t Ars Technica