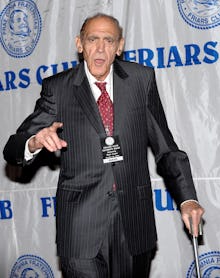 Abe Vigoda, a character actor most famous for roles in the Godfather, Good Burger and the television series Barney Miller died in his sleep Tuesday at the age of 94, the Associated Press reported. His daughter Carol Vigoda Fuchs broke the news. "This man was never sick," Fuchs told the AP, saying that the cause of death was old age.
The nonagenarian actor had been in poor health in recent days, with his nephew Jesse Vigoda Kurland posting that his uncle had gone into hospice care four days ago. "Letting everyone know that my [great] uncle Abe Vigoda has officially gone into hospice and stopped taking his medication," Kurland wrote in a Facebook post that was reposted to Phish.net. "He's 94 years old so he may not be around for all that much longer. Figured some of you might care to know."
In his later years, the Brooklyn native embraced his more humorous sides as a recurring guest on Late Night With Conan O'Brien and, in 2013, a memorable onstage appearance at a Phish concert.
In addition to his long acting career, Vigoda became a household name after a number of outlets prematurely declared him dead — more than once. It began with a 1982 mention of "the late Abe Vigoda" in People magazine. At the time the actor was performing in a play in Calgary, Canada. Five years later, Secaucus, New Jersey made the same mistake.
A narrow brush with death on an emergency airplane landing in 1999 did nothing to tamp down on the rumors. By the time he starred in Good Burger, the idea of his death had become a running punch line. In 2001, a website dedicated to monitoring his status was established, as well as numerous Twitter accounts — some of which were a little behind the times. 
To reiterate — so there is no further confusion: 
Abe. Vigoda. Is. Dead.
Rest in peace.