Here's How Much Movies Are Selling for at Sundance Film Festival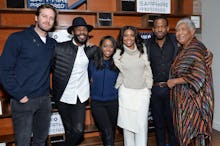 Evan Agostini/AP
The Sundance Film Festival was the chance for talented filmmakers to showcase their complex and sometimes emotional independent films, but also for companies to drop major bucks on the distribution rights to those projects. The highly praised movie The Birth of a Nation broke records when Fox Searchlight purchased its distribution rights for $17.5 million, beating out Netflix and Paramount in a bidding war, according to USA Today.
But companies like Netflix and Amazon also dropped millions on hit Sundance films as well, the New York Times reported. The hope is that the films will bring more audiences to the streaming services or become box office hits for traditional movie studios.
Read more:
Netflix purchased Sian Heder's Tallulah, which features Ellen Page and Allison Janney, for $5 million. "The way that people consume media is changing," Heder said about her comedic drama going to an online streaming service, according to the New York Times. Netflix also snatched up The Fundamentals of Caring, which stars Selena Gomez and Paul Rudd, for $7 million. 
Last year, Netflix purchased Cary Fukunaga's Sundance film Beasts of No Nation, which succeeded on Netflix, having been watched in almost every operated country in the first week of its release, but grossed only a tiny profit in theaters, Deadline reported. 
Amazon isn't going home empty-handed either. As of Monday, the streaming service purchased four films, the New York Times reported. One of those films was Manchester by the Sea for $10 million, which was eyed by Fox and Universal. Amazon is setting its sights mainly on those that could be Oscar-worthy, the New York Times reported. Amazon also bought the rights to Love & Friendship and Complete Unknown for about $2 million each.
A24, which can be thanked for bringing the Oscar-buzzing Room to life, bought Morris From America, which is about a hip-hop-loving African-American boy adjusting to life in Germany, for about $1 million, Variety reported Sunday.
Big-name studios are also purchasing Sundance hits. Lionsgate bought Indignation through its Summit label for $2.5 million. Equity, which is about a female financier, was purchased by Sony, according to Entertainment Weekly. "They always do well at the box office," Equity director Meera Menon said about her thriller. "Audiences are drawn to watching them because it's kind of a mysterious world, a world that really affects our day-to-day life in a very intense way."
Still, studios and streaming services alike can look up toward Little Miss Sunshine's epic box office success, which earned $70 million in North America after Fox Searchlight purchased it from Sundance in 2006, the New York Times reported.