Bernie Sanders Campaign: Logo, Slogan and Campaign Platform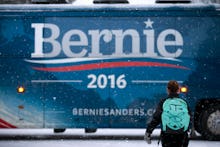 Jae C. Hong/AP
It's safe to say America is "Feeling the Bern" right now. With the Iowa caucus and New Hampshire primary fast approaching, Vermont Sen. Bernie Sanders has continued his rise in the polls for each state, and has narrowed the gap on former Secretary of State Hillary Clinton in the national political spectrum. Most notably, the senator has rallied support among the liberal youth, and with it, an increased emphasis on online campaigning. Just as any presidential candidate would, he's employed a campaign logo, slogan and website detailing his platform. 
Read more: 
Since announcing his candidacy back in April, Sanders has employed two slogans for his campaign. The first, at the beginning of his presidential bid, was "A political revolution is coming." When compared to other presidential campaign slogans in May, the Washington Post ranked it as the fourth-best among a group of eight. 
"At a time when trust in institutions has reached historic lows, a promise to revolutionize our politics is exactly what millions of voters are looking for," Hunter Schwarz wrote for the Post. "Also, it's very on-brand for the only candidate in the race who's ever been elected as a Socialist." 
However, as of December, Sanders has unveiled a new slogan with a more modest approach — "A future to believe in" — after he revealed it at a campaign rally at Cornell College in Mount Vernon, Iowa, according to a release from Sanders' campaign page. 
The slogan change was also one month after Sanders used the term in his first televised campaign ad: 
Similarly, Sanders' logo has been critiqued by design experts, who have noted that its minimal approach has some drawbacks. "[The logo] is simple enough but lacks any real unique identity that would help it stand apart from the rest," brand designer Sky Hartman said, according to CNN. "The use of color is good, however." Additionally, NBC had Sagi Haviv — a design expert and instructor at the School of Visual Arts — to critique Sanders' logo as part of an ongoing series. He gave a similar review, though he added that its simplicity might be a fit for his platform. 
Broadly, Sanders' campaign rhetoric has been consistent throughout his presidential run — most notably, he aims to bridge the gap in income inequality. "The reality is that since the mid-1980s there has been an enormous transfer of wealth from the middle class and the poor to the wealthiest people in this country," according to Sanders' campaign page. "That is the Robin Hood principle in reverse. That is unacceptable and that has got to change." 
Furthermore, Sanders is determined to change the perceptions of what makes a strong political campaign by emphasizing the need to adjust the way they are funded. In his view, Super PACs give the wealthy an unprecedented amount of power and influence with campaign contributions. "Our democracy cannot be truly representative unless elected officials hear from all of their constituents, not just the wealthy and the powerful," according to Sanders' campaign page. 
Ultimately, if you still haven't and want to join Sanders — and "Feel the Bern" — it's readily available in the digital space.