Fox News Republican Debate 2016: Start Time, Preview and How to Watch Online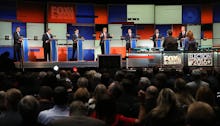 Scott Olson/Getty Images
On Thursday, Fox News will both broadcast and livestream (and without cable authentication) the seventh GOP debate. This is the network's second time hosting a debate. The undercard debate starts at 7 p.m. and the main debate starts at 9 p.m., according to Fox. The debate is taking place at the Iowa Events Center in Des Moines, Iowa, just days before the Iowa caucuses. 
America's Newsroom's Bill Hemmer and Martha MacCallum will host the undercard debate. Special Report anchor Bret Baier, The Kelly File's Megyn Kelly and Fox News Sunday's Chris Wallace — all of whom hosted the Aug. 6 debate — will be returning to moderate the main debate. 
For the debate, Fox is teaming up with both Google and YouTube to provide new ways of finding and asking the candidates questions. Google Trends will feature "real-time insights on candidates search interest, key issues and topics covered throughout the night," according to a Fox press release. Popular YouTube stars will get to ask the candidates questions over submitted videos. 
Read more:
To qualify for the primetime debate, candidates need to be nationally ranked in the top six spots based on an average of the five most recent national polls, or rank in the top five in Iowa or New Hampshire in an average of the five most recent polls in the two respective states, a January press release said. These polls would need to occur and be released before Tuesday.
Although Donald Trump is leading the Republican pack, the real estate titan has said that he's considering skipping Thursday night's debate since Kelly is hosting, CNN reported. The two have been at odds since Fox's August debate. But Trump has threatened boycotts before — and has always attended in the end, the New York Times reported.
Fox's first Republican debate, which took place last August, earned over 24 million viewers, according to a press release in December. 
As of Tuesday, there are still 12 GOP candidates in the running.