6 Police Officers Fired In Connection to 2012 Chase That Killed 2 Homeless People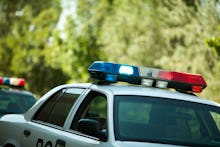 On Nov. 29, 2012, a Cleveland police chase ended in the deaths of Malissa Williams and Timothy Russell after officers shot a total of 137 bullets into their vehicle. Williams and Russell were both homeless, both black and both unarmed.
In May, Cuyahoga County Judge John P. O'Donnell found Officer Michael Brelo not guilty of manslaughter and felonious assault because O'Donnell ruled that Brelo was acting on the reasonable belief that his life was threatened. But on Tuesday, Brelo was among the six Cleveland officers who were fired from the department for their involvement in the shooting. Brelo was allegedly responsible for 49 of the gunshots, 15 of which he is said to have fired directly through the car's windshield.
The other fired officers are Wilfredo Diaz, Brian Sabolik, Erin O'Donnell, Michael Farley and Chris Ereg. A tweet from the Cleveland Police stated that six additional officers were suspended without pay for between 21 and 30 days, with a 13th officer having retired in 2015. 
Following the Brelo verdict, the American Civil Liberties Union filed a lawsuit with the city of Cleveland for the police force's treatment of those protesting the ruling. A total of 71 protesters were arrested and jailed for 36 hours, in what the ACLU said was an attempt to minimize the protests. Four of the protesters were charged with felonies — four more than received felony charges for Williams's and Russell's deaths. 
Since Brelo's acquittal, the Cleveland Police Department agreed to require all officers to record every time they draw their guns. Still, progress was put on hold when Cuyahoga County's grand jury chose not to indict Cleveland police officers for the shooting of 12-year-old Tamir Rice in December.
To Cleveland Detective Steve Loomis, though, the city's disciplinary action against the department's 13 officers amounts to "nothing but politics." Loomis, also the president of Cleveland Police Patrolman's Association, told CNN, "I have every confidence in the world we're going to get their jobs back. I'm not going to stand for it."