Here's Who 'Making a Murderer' Viewers Really Think Is Guilty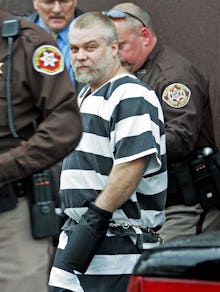 Morry Gash/AP
The Netflix original documentary series Making a Murderer has racked up a die-hard following since its Dec. 18 release, and according to viewer survey data from real-time quality insights firm Pollfish, the question of Steven Avery's guilt is more polarizing than the documentary's framing would suggest. Or, at least, Pollfish's survey results may surprise the hundreds of thousands of people who so fiercely believe Avery is innocent that they signed a petition calling for his release.
"Our main goal in deploying this survey was to dissect the true sentiments behind the show," Pollfish's head of marketing, Ray Beharry, told Mic in an emailed statement. "Watching the news or reading stories and theories surrounding the case gave the impression that the majority of people were firmly in Avery's corner, but we wanted to use our access to the largest mobile survey network in the world to truly gauge the strength of the voice of dissent.
"It turns out, people are far more torn than the buzz may lead the public to believe, and it's interesting to see which elements of the case cause the most doubt."
Read more:
Making a Murderer details the wrongful, 18-year imprisonment of a Wisconsin resident on sexual assault charges, and his 2003 release and reincarceration on separate murder charges. The subject at the center of it all is Avery, an auto salvage lot worker many believe is not culpable. Rather, some viewers think law enforcement officials in Avery's hometown, Manitowoc County, Wisconsin, are guilty of framing Avery and his nephew Brendan Dassey for the 2005 murder of photographer Teresa Halbach. 
According to Pollfish's survey of 2,005 participants in the United States, 55.4% of respondents don't believe Avery is guilty of murdering Halbach, whereas 44.6% think Avery committed the crime. The percentages are even more closely divided when it comes to the subject of Dassey's guilt as an accomplice to Halbach's murder. According to the survey results, 51.3% of responders think Dassey is guilty as charged, whereas 48.7% believe Dassey is innocent.
The survey results also include nuanced conclusions about public opinion surrounding the case. For instance, 65.3% of survey responders said Avery's socio-economic status had no bearing on their opinion of his innocence or his guilt, compared to the 34.7% who said it did.
"Situations like this that almost force the public to become aware of something that challenges their conception, tend to draw a line in the sand," Beharry said. "They challenge faith, ethics and trust in a way that can be very uncomfortable and encourages people to stand up for what they think is right.
"When the perception is that you have to choose a side, everyone becomes more interested to see the outcome. We love deploying surveys around these types of topics; the cases are so engaging because we get to see the real feelings of the people, and even watch them change as a story unfolds."
Conflicting stories: The fervor surrounding the show has been so great that a petition for Avery and Dassey's pardon prompted the White House to respond.
"Steven Avery should be exonerated at once by pardon, and the Manitowoc County officials complicit in his two false imprisonments should be held accountable to the highest extent of the U.S. criminal and civil justice systems," reads the petition.
The petition garnered enough support that the White House issued a statement saying a pardon in the case of Avery or Dassey would need to originate from state-level authorities, but that President Barack Obama is "committed to restoring the sense of fairness at the heart of our justice system."
In the wake of Making A Murderer's meteoric popularity, new details began to emerge that painted a more murky picture of who's to blame. For instance, after the series aired, one of the jurors involved in the case told the show's producers they had voted to incarcerate Avery out of fear "for their personal safety."
Yet perhaps a more surprising development that muddied the case came in mid-January. Making a Murderer depicts one of the people who's supposedly closest to Avery, his ex-fiancée Jodi Stachowski. At every turn during the series, Stachowski supports Avery's character and claims he's innocent, yet in an exclusive interview with HLN uploaded to YouTube on Jan. 13, Stachowski walks back her expressed support for Avery, describes her life with him as one filled with abuse and labels him a "monster." 
The evidence: Even the credibility of evidence introduced by the prosecution is contentious, according to Pollfish. Per the data, the most convincing piece of evidence against Avery is blood found in Halbach's car. Of the survey's responders, 28.2% said blood found in the vehicle is the prosecution's most convincing evidence, compared to 26.5% who said that bones found in Avery's fire pit are the most damning evidence.
However, the least convincing evidence, according to 26.4% of survey responders, is the Rav-4 key that was allegedly found in Avery's bedroom. Also unconvincing as damning evidence, according to 22.9% of Pollfish's survey responders, is the fact that Halbach's car was located on Avery's property after her death. 
Despite skepticism surrounding the prosecution's evidence, the majority, or 33.1%, of those polled think that Avery and Dassey murdered Halbach, compared to 26.3% of survey respondents who think she was murdered by "an unknown member of the community." A meager 14.8% of survey respondents think county police killed her.
And the contradictions continue. Even though the majority of survey respondents think Avery and Dassey are guilty of murder, 64.1% agree that the jury was "compelled" to find both Avery and Dassey guilty of the accused crime, compared to 38.9% who said the jury was under no pressure to reach a guilty verdict.  
"The key takeaway here is that there is always an underlying current of thought and opinion distorted by the noise surrounding a popular story," Beharry told Mic. "Just because those with one view happen to be the most vocal, doesn't mean there aren't others, and perhaps even more, with a dissenting viewpoint that feel just as strongly." 
"In this case, we found that a surprising number of people who watched the whole show still think Avery is guilty — but that isn't what you hear in the media. A survey like this helps to form a more complete picture of the public opinion landscape as it changes, and as people become more informed."
Systemic problems with America's criminal justice system: The case against Avery and Dassey has raised questions regarding perceived, deep-seeded injustices embedded within the U.S. criminal justice system. Much the same was the case after WBEZ's This American Life podcast spinoff Serial dragged one murder case to the forefront of the public's consciousness. Despite heightened awareness for the subject of that case, Adnan Syed, the accused, remains behind bars. 
If past is prologue, Dassey may eventually get a retrial, like Syed, however it could take a whole lot of time. In the meantime, it's possible that criminal justice reform will be a more frequent topic of conversations in Washington, D.C.
"I hope we can work together this year on some bipartisan priorities like criminal justice reform," Obama said during his final State of the Union address Jan. 12.