Neil deGrasse Tyson Just Dropped a BoB Diss Track Called "Flat to Fact"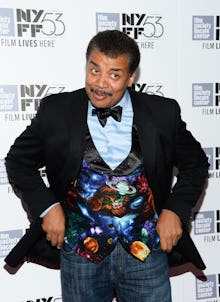 Evan Agostini/AP
After a Twitter exchange between rapper B.o.B and astrophysicist Neil deGrasse Tyson regarding the flat Earth conspiracy, the two decided to take their feud to the studio. Yes, B.o.B and Neil deGrasse Tyson are engaged in a rap beef. You read that correctly. 
Read more:
Acknowledging his limitations as a rap artist, Neil deGrasse Tyson enlisted the help of his nephew Stephen J. Tyson for a diss track titled "Flat To Fact (feat. Neil deGrasse Tyson)." The diss track borrows the instrumental from Drake's "Back to Back" diss song. 
Source: SoundCloud
In the track, the former Cosmos: A Spacetime Odyssey star opens with the words he tweeted to B.o.B, "Flat Earth is a problem only when people in charge think that way. No law stops you from regressively basking in it." 
Tyson's nephew then delivers facts over the beat, "What about change in seasons?/ The planet spins around the sun, do you need more reasons?"
B.o.B threw the first shot Monday, with his track "Flatline" that takes a few shots at the physicist. "Neil Tyson need to loosen up his vest," the rapper spits. "They're probably writing that man one hell of a check."
Twitter reacted to the diss track with a mix of confusion, intrigue and embarrassment.
Maybe the astrophysicist should stick to his day job.