Donald Trump Says He's Skipping Fox GOP Debate — But He's Said the Same Thing Before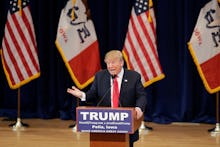 Joshua Lott/Getty Images
Republican presidential frontrunner Donald Trump won't be participating in Thursday's GOP debate on Fox — or so he says. In a statement to Mic Tuesday evening, the bombastic billionaire's campaign said, "Mr. Trump knows a bad deal when he sees one." In other words: He won't be gracing Fox's debate stage.
"Unlike the very stupid, highly incompetent people running our country into the ground, Mr. Trump knows when to walk away," the statement continues. "Roger Ailes and Fox News think they can toy with him, but Mr. Trump doesn't play games. There have already been six debates, and according to all online debate polls including Drudge, Slate, Time magazine and many others, Mr. Trump has won all of them, in particular the last one."
Trump's campaign manager Corey Lewandowski told the Washington Post Trump will "definitely not" participate in the debate.
"His word is his bond," Lewandowski said. Instead of debating his Republican rivals, Trump will "host an event in Iowa to raise money for the Veterans and Wounded Warriors, who have been treated so horribly by our all talk, no action politicians."
Read more:
Trump had been hinting at a potential boycott for the past week, tweeting on Saturday, "Based on @MegynKelly's conflict of interest and bias she should not be allowed to be a moderator of the next debate."
However, Trump has been down this road before. In August, the Republican frontrunner asked CNN to donate $10 million to charity for his appearance at their Sept. 16 debate. When CNN refused to pay, Trump appeared at the debate anyway. 
This isn't even Trump's first time threatening to boycott Fox. In September, after battling it out with Kelly at the first Republican debate, Trump threatened to boycott the network for being "unfair." Trump then teamed up with Republican presidential candidate Ben Carson in October, threatening CNBC to limit the debate to two hours or face their boycott. Both Trump and Carson appeared at the debate. 
Trump still holds a commanding lead over his GOP rivals in the polls, with a recent CNN/ORC poll placing the business tycoon at 41%. His closest rival, Texas Sen. Ted Cruz, sits at 19%. 
The next GOP debate will take place on Jan. 28 at the Iowa Events Center in Des Moines, Iowa, at 9 p.m. Eastern.
January 26, 2016 9:42 p.m.: This story has been updated to include a statement from the Trump campaign.