Kerry Washington and Joseph Gordon-Levitt to Receive Hasty Pudding's Highest Honors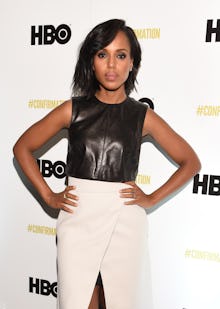 Vivien Killilea/Getty Images
Joseph Gordon-Levitt and Kerry Washington have respectively been named Hasty Pudding Man and Woman of the Year. What does that mean? Per the announcement, that they've been selected for distinction by the nation's oldest college theater club, Harvard's Hasty Pudding Theatrics, and will join the ranks of Meryl Streep, Robert DeNiro, Halle Berry, Tom Hanks and Elizabeth Taylor as honorees who've made impactful contributions to the entertainment field.
Read more:
"No emoji can express how excited we are about having Joseph Gordon-Levitt as our 50th Man of the Year," Pudding Theatricals president Bobby Fitzpatrick said in the announcement. "We anxiously await Mr. Gordon-Levitt's arrival, as he begins his slow journey to the Hasty Pudding Theatricals on a small rope from L.A. to Cambridge."
The actor/producer/director/writer isn't actually hauling himself across the country on a length of rope. He is presumably flying to Massachusetts to accept the honor Feb. 5. Despite the less dramatic entry, the excitement seems to be palpable. Kennedy Edmonds, producer of the Pudding's 168th performance, That 1770s Show, which will take place after the WOY induction, echoed Fitzpatrick's sentiments when it came to Scandal's Washington, whom the company will fête Thursday. 
"We are so excited to honor Kerry Washington as the Hasty Pudding Theatricals Woman of the Year and welcome her to Cambridge to celebrate her many achievements," Edmonds said in the announcement. "Kerry is an amazing actress with many fans in the company, and the perfect choice for this honor... But we also feel a bit nervous as we set out to coordinate a perfect event for legendary PR whiz Olivia Pope!"
Festivities include a parade, face kissing, a roast of the recipient, the bestowal of a "pudding pot," dress-up and much merry-making. The WOY tradition began first, with the honoring of Gertrude Lawrence in 1951; in 1967, the inaugural MOY award went to Bob Hope. 
The society dates back to 1795, when 21 Harvard University students congregated in a dorm room "to cultivate the social affections and cherish the feelings of friendship and patriotism," and also, to enjoy the pot of hasty pudding that was deemed a mandatory feature of the club's meetings thereafter. (Thus its unusual name.) The theatrics bit didn't come into play until the 1800s, when "increased rowdiness and anarchy" within the membership prompted the staging of mock trials, which morphed into the student-written and -run shows for which Hasty Pudding Theatrics remains famous.
And it is famous. Media coverage of the awards has included the Huffington Post, NBC, E! and more. Look for shots of the impressively outfitted celebs to be immortalized on the interweb in coming weeks.