Kanye West Changes New Album Title From 'Swish' to 'Waves'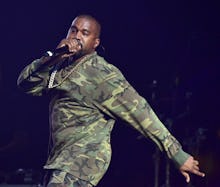 Prince Williams/Getty Images
Rapper Kanye West has changed the title of his new album yet again, from Swish to Waves, as he announced on Twitter Tuesday night. The new album is slated for a Feb. 11 release.
Read more:
Originally titled So Help Me God, the Chicago native's highly anticipated album will debut at Madison Square Garden in New York, according to Pitchfork.
West later tweeted out a new sketch of the album, after originally calling the project, "the best album of all time." 
West appears to have added a new track in red, titled "Ultra Light Beam." The list also shows the songs divided into acts, and shows the former titled Swish with a line drawn through it. If the track list is complete, the album will include "Wolves" with Vic Mensa and Sia, "Real Friends" with Ty Dolla $ign and "No More Parties in LA" with Kendrick Lamar.
The reason for the name change is a mystery for now. However, producer Hudson Mohawke, who's worked with West on previous tracks "All Day" and "I Am a God," mentioned on Twitter that he may have something to do with it.
The jury is still out on if it'll be the greatest album of all time, or "album of the life" as Kanye also described it. But rapper Travis Scott feels "like it's going to be like a very good fucking good album." 
"Muthafucka, he going in on this album. That nigga not sleeping. The nigga ain't eating. It's just crazy," the artist told Billboard in an interview. "It's lit, like he's just focusing on this album. He really wants this album to be the illest, so I'm just here to support that."