Oregon Standoff Ends in at Least One Death, Arrest of Leader Ammon Bundy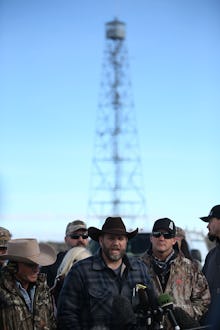 A 25-day standoff started by an armed group of ranchers in rural Oregon resulted in a gunfight with the FBI and other authorities on Tuesday, reports CNN.
FBI agents in conjunction with other law enforcement agencies arrested group ringleader Ammon Bundy, who led a group of armed men to seize control of the headquarters of the federally owned Malheur National Wildlife Refuge on Jan. 2. The FBI confirmed one suspect was killed, and one other was injured.
CNN identified the dead suspect as the group's spokesman, Robert LaVoy Finicum, and the person injured as Ryan Bundy, Ammon Bundy's brother.
According to an official FBI statement, authorities arrested at least three other members of the self-declared "Citizens for Constitutional Freedom" during the incident, which KATU reported occurred as the group was driving approximately 70 miles off the reserve to attend a town meeting in the city of John Day.
Jon Ritzheimer, a member of the organization who posted a widely circulated video demanding the group's critics stop mailing them sex toys, surrendered to the FBI separately, reports the Oregonian.
It remains unclear whether the arrests have effectively ended the standoff or remaining members of Citizens for Constitutional Freedom will continue to occupy the refuge. In a statement, Oregon Sen. Jeff Merkley urged any holdouts to peacefully surrender.
The New York Times' Julie Turkewitz reported that remaining group leader Jason Patrick and several others are maintaining their position at the Malheur headquarters.
Hours before, authorities arrested a man driving to the refuge who was allegedly both drunk and vocal of his desire to murder federal agents.
Bundy is the son of Cliven Bundy, a Clark County, Nevada rancher who gained national fame in 2014 after organizing a small army of armed right-wingers to confront Bureau of Land Management agents attempting to seize his cattle over unpaid grazing fees. The BLM agents later withdrew to prevent violence. 
The Southern Poverty Law Center, a non-profit that tracks hate groups, argued at the time the withdrawal effectively emboldened anti-government extremists.
In the past weeks since his group took control of the refuge, the younger Bundy issued a series of demands to the FBI and media, including the release of local Nevada ranchers sentenced to prison time for arson and the return of all federally owned land in Harney County to its previous owners. He and other members of the group repeatedly declared their willingness to die for their goals.
In an interview with the L.A. Times' Matt Pearce, the elder Bundy said "Isn't this a wonderful country we live in? ... now we've got one killed, and all I can say is, he's sacrificed for a good purpose."
This is a breaking news story and will be updated as more information becomes available.